Need for Speed Underground Downloads
kickStart NFSU Netplay Launcher Lap Recorder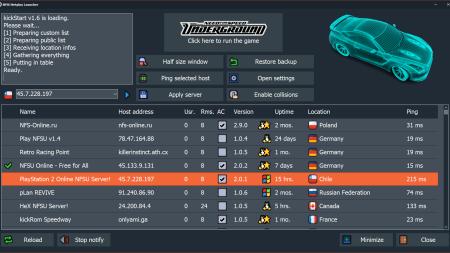 Views 4,672
Downloads 420
File updated on: November 18, 2023
It's a user-friendly frontend to play NFS Underground on a game server: just select one, start the game, and go play online. That's basically it, but there are some useful features built-in: check ping and firewall rules, manage bookmarks, enable ghost mode, and links to more information regarding multiplayer.
Changelog:
v2.2
Complete overhaul of DX9 overlay: now featuring the Top 5 from NFS.onl as an optional HUD element as well as FPS informations and it's even possible to take over the original Lap Info. Also personal data will get synchronized with the online database automatically and in real time. The actual FPS and the FPSLimit will be measured and checked as well which comes with new setting rules for the online rankings: 60, 70, 85, 105 and 144 FPS are allowed, as long as the game runs stable on the framerate limit.

v2.1
New DirectX9 overlay and bugfixes
v2.0
Finally, you can upload your Free Run records, even automatically, results will appear directly on https://nfs.onl/. On a new or 2nd PC you can also import your data from the online database. The button to import/upload has been added to "My Free Run records", also new options can be found on the "Track records" tab in the settings. +Bugfixes +New savegames
v1.9
Starting from this version, Free Run records are now eligible for online rankings, as long as game speed and timings won't provide an unfair advantage, which will be checked. For more details and instructions, please refer to the information available by pressing the F1 key. Additionally, bug fixes as usual, including compatibility with the new Widescreen Fix which can be updated by first "Delete" then "Install" under Settings.
v1.8
Huge upgrade: Lap Recorder with overlay! Make sure that collisions are enabled and give your best in Free Run mode. kickStart will track your best lap times. You can review your session in the overview table under "My Free Run records". Press the F1 key for more information. Not working on XP yet. Also: bugfixes, as usual.
Please note: Recorder is now in a public testing phase, all records done with this version are not yet eligible for the upcoming online rankings.

v1.7
Instead of a message about already running, it will just bring the main window in front. Play time is shown when game is started and notifications will reactivate after session is over. Starting game by holding Shift will keep notifications activated (for offline session). Start button will bring the game to front if it's already running, to avoid multiple instances. Hotkey AltGr+K (only if close to tray is enabled) will make mouse pointer visible which makes it a very good alternative to Alt+Tab. Making screenshots with F10 now has accustical feedback. Users online on favorite servers do now have a timeout of 5 minutes, so that players in a race won't disappear all of a sudden. Also, lots of bugs have been fixed and a few minor cosmetics have been done.
v1.6
Additional files are now outsourced to subfolder "files". Server Changer script mod is now default to configure the game server via INI file. In-game music playlist can also be edited. There is a GUI to remove, install, and configure ASI plugins like Widescreen Fix. New options are available to start minimized, startup with Windows, close to the tray, and add a shortcut to the desktop. Custom servers can be favorited for monitoring. Get notified about online users on favorites with visual and acoustic signals, and use custom MP3 files. New user game files management: easily import 100% savegames. Create a new profile for that and even change TJ's unique upgrades for the underground car on the fly. New hotkeys are available: take screenshots with F10, access more info with F1. There are also some new graphics and a new theme.
v1.5
Widescreen Fix is now integrated, allowing installation and configuration via a graphical interface.
The official server was shut down by EA back in 2006. However, it's possible to play online again as there is server software available that emulates the official one: https://github.com/HarpyWar/nfsuserver
kickStart, the netplay launcher, is preparing a list of such servers and also checks if they are online. You can simply create an account on each server, just use a fake email for that, it doesn't matter at all.
Except for the ASI script mods and the Lap Recorder, this software is fully compatible with Windows XP, making it usable on retro PCs.
Version 1.8

uploaded November 18, 2023

Redhair uploaded a new version. The new file is 12.78 MB.

- DX9 overlay revised and expanded
- Automated data synchronization with online database
- Framerate measurement
- Bugfixes

Version 2.1

uploaded October 3, 2023

Redhair uploaded a new version. The new file is 12.79 MB.

- DirectX 9 Overlay
- Bugfixes

Version 1.6

uploaded September 12, 2023

Redhair uploaded a new version. The new file is 12.51 MB.

- Upload/Import buttons
- Automated uploads
- Nickname registration
- Profile editor
- Online database and rankings on https://nfs.onl/
- Bugfixes

Version 1.5

uploaded July 9, 2023

Redhair uploaded a new version. The new file is 12.4 MB.

- From this version on, records are eligible for upcoming online rankings, if they are valid, which will be checked by the program
- Compatibility with new Widescreen Fix and other bugfixes

Version 1.4

uploaded June 30, 2023

Redhair uploaded a new version. The new file is 12.43 MB.

- New feature: Lap Recorder!
- Overlay with lap record, top speed and more info
- Sortable overview table with filters for session review
- Export to file function
- Bugfixes, as usual


Version 1.3

uploaded May 24, 2023

Redhair uploaded a new version. The new file is 11.91 MB.

- Better approaches to avoid multiple instances of tool and game
- Notifications will be enabled again after playing
- Hotkey AltGr+K has become an alternative to Alt+Tab
- Sound effect when making a screenshot
- Buffered display of users online on a favorited server to avoid sudden drops when a race starts
- Bug fixes, code optimization and minor cosmetics

Version 1.2

uploaded May 21, 2023

Redhair uploaded a new version. The new file is 11.87 MB.

- Additional files outsourced to subfolder
- New server change method via INI file + trax playlist editor
- GUI to install, remove and configure script mods
- New options to start minimized, close to tray, startup with windows, icon to desktop
- Custom server favorites, monitoring and notification system
- User game files management with 100% savegame import and unique upgrades editor
- New graphics and theme
- Hotkeys for screenshot and more...

Version 1.1

uploaded April 26, 2023

Redhair uploaded a new version. The new file is 8.75 MB.

WideScreenfix integrated, can be installed and configured via GUI

Initial version

uploaded April 20, 2023

Redhair uploaded initial version. The original file is 3.59 MB.