Need for Speed Underground Downloads
1993 Lancia Delta HF Integrale Evoluzione II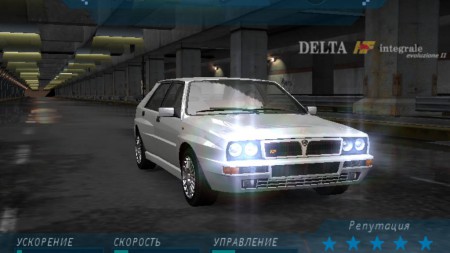 Added On October 31, 2018
Views 1,156
Downloads 198
Version Underground
Brand Lancia
This car replaces Peugeot 206 (PEUGEOT)
This car was converted from NFS World, NFS ProStreet and Shift 2 Unleashed by YochiThMaster333 aka Eevee (me).
Replaces: Peugeot 206
Tuning:
- Front Bumpers
- Rear Bumpers
- Side Skirts
- Spoilers
- Hoods
- Roof Scoops
- Wide Bodykits
- Rims
- Neon Glow
- Muffler Tips
- Window Tint
- Paint
- Decals
- Vinyls
- Performance
Features:
- NFS:UC driver model
- Stock white color
Known bugs:
- Anyone at the moment
Install:
1. Extract PEUGOT folder into game directory/CARS
2. Run NFS-CfgInstaller.exe, find path to game directory and choose lanciaDelta_install.u1car
3. With NFS TexEd, open FrontB.lzc, find textures ID 163 and 106, and replace with CARSELECT_MANUFACTURER_PEUGEOT.dds and SECONDARYLOGO_PEUGOT.dds respectively. Save
4. Run the game and choose Peugeot 206. Lancia Delta HF Integrale will be visible instead of Peugeot 206.
FAQ:
Q: What is game directory?
A: That's the folder where your NFSU1 installed
Uploaded on:
nfsaddons.com (this site)
nfscars.net
nfsmods.xyz
Please don't reupload to these sites.
Thanks to:
nfsu360 for his NFSU1 ModTools
Oleg M. for Zmodeler