Need for Speed Porsche Unleashed Downloads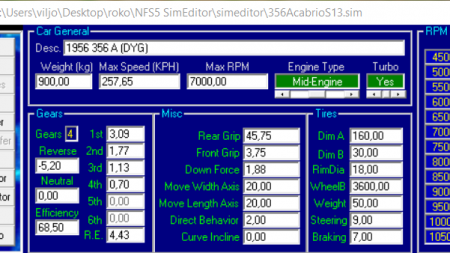 NFS5Edit is freeware.
Description:
This program edits NFS-PU *.sim, *.sav, and nfs5.trk files.
The nfs5.trk file may also be combined with another nfs5.trk file (such as a friend's in the floppy drive).
File Types:
*.sim These are files that control how a car drives.
*.sav These are player save files, only money can be edited.
nfs5.trk This file contains all the track records in NFS-PU.
This Program replaces both NFSRecED.exe and NFSSimEd.exe.
To enter data in any of the memory locations (except car description), you must press ENTER.
This program was written with VB6. Source code is at:
http://www.geocities.com/dyg/downloads/nfs5editsrc.zip
Some of the data identified may not be correct, but it's all I have figured out or guessed at so far.
Enjoy!
RoofRabbit
****************** Credits ******************
Variables research and 'NFS5 Sim Editor' : created by RoofRabbit
The 'NFS5 Sim Editor' Help manual team include :
**************************************
Additional variables research, discoveries and their descriptions by IH8COPS
Setup application and "SimEdit Help" construction by AccadaccA
"SimEdit Help" proof-reading by Remko