Need for Speed Most Wanted Downloads
1024x vinyls for YochiThMaster333's cars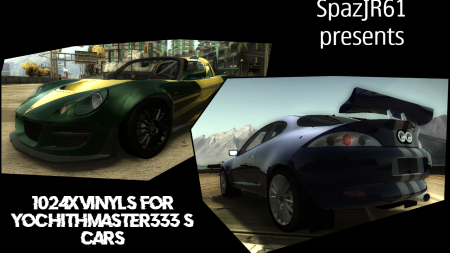 Added On January 16, 2022
File updated on: January 28, 2022
You want to use YochiThMaster333's cars but you have 1024x vinyls installed and his cars are only available with 512x vinyls
if you still want to use vinyls, this mod is for you!
For now it includes the vinyls for these cars:
Lotus Elise S190
'91 Honda CRX
Ford Racing Puma
Nissan Skyline GT-R LM Road Car (R33)
Nissan Stagea 260RS Autech Version
Daihatsu Mira TR-XX Avanzato R
Mazda Eunos Roadster (NA)

ONLY VINYL FILES ARE INCLUDED
Also debug texture are included in the vinyls.bin files, you can open them with NFS TexEd or Binary
Installation (this only applies to addon versions only): Just put the CARS folder to your NFSMW directory
MAKE SURE CREATE BACKUPS!!!
Changelog:
1.1
-Added vinyls for Eunos Roadster (NA)


1.0.1 Hotfix
-Looks like I forgot to include Mira TR-XX vinyls, now they're included with the pack
-Added Google drive link as an alternative download because sometimes mega can corrupt files



Credits:
nlgxzef: Recompiled vinyls (as they're used as the basis of the vinyls)
nfsu360: NFS TexEd 1.7
YochiThMaster333: for these decent car mods
Version 1.1

uploaded January 28, 2022

SpazJR61 uploaded a new version. The new file is 632 B.

Added Google Drive link
Added Mira TR-XX vinyls

Initial version

uploaded January 16, 2022

SpazJR61 uploaded initial version. The original file is 367 B.