Need for Speed Most Wanted Downloads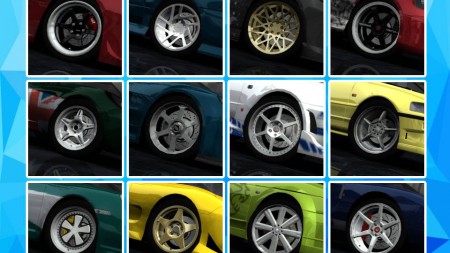 Views 8,108
Downloads 1,394
File updated on: March 25, 2023
This rim pack was converted from NFS Underground 2, NFS Undercover, NFS World, Shift 2 Unleashed, NFS Heat Studio, Forza Motorsport 2 & 4, Forza Horizon 4 & 5, Initial D Arcade Stage, Project CARS 3, Drift Spirits, Juiced 2, and Sketchfab by YochiThMaster333 aka Eevee (me).
Includes:
41 vanilla rims that now use models from NFS World to enable tire customization
166 new rim styles to play with
28 tire styles to choose from
Problems around this mod:
Due to stable rim style per brand limit is at 11, the icons of rims after 11th style is missing
It is not compatible with Viper4K's rim pack or any other rim pack that is addon
Due to me thinking that making LODs is time consuming, most added rims lack any LODs and can cause crash if you're using potato PC
Perhaps not compatible with Aftrmrket Exotics' Tire Textures mods due to the fact that NFS World tire mapping is different than NFS Carbon tire mapping (Aftrmrket Exotics' Tire Textures use NFS Carbon tire mapping)
How to install:
Download and install NFSMW Unlimiter
Run Binary v2.8.3 as an administrator, click on red (User Mode) icon, then pick YTMRimsPack.end and look for NFSMW game directory (ignore the errors if there are any)
Run the game and create a new save game. If the new rims appear visible properly, then you did all right.
FAQ:
Q: What is game directory?
A: That's the folder where your NFSMW installed
Uploaded on:
nfsaddons.com (this site)
nfscars.net
nfsmods.xyz
Please don't reupload to these sites.
Thanks to:
nfsu360 for his NFS-CarToolkit
Oleg M. for Zmodeler
Guki, Mike Oxmaul/DARKSIDEOPG, DMN, Keihin7/gtb765, GL/Aiden Pirs/Galina Ivanova, Chipicao, GKRacer and Xenn for ripping models
Viper4K for inspiration and sending me link to Mugen M7 rims
Martin Trafas at Sketchfab for making Mugen M7
nlgxzef for updated .fng files
Version 1.5

uploaded March 25, 2023

Eevee uploaded a new version. The new file is 20.42 MB.

- Made four of the unpaintable rims paintable (they still have MAGSILVER material, but the texture was not changed):
-- Mazda RX-7 Spirit R and Dodge SRT Hellcat rims' textures were notably altered as they were too dark originally
-- OZ 35th Anniversary and Lowenhart LSR rims' textures weren't altered at all, but they received paintable areas (OZ: Silver parts on spokes; Lowenhart: rim lip as in NFSU2). Lowenhart LSR's rim lip also received texture as I never knew that it ever had a textured lip but it ended up having METAL_SWATCH texture instead
- Improved and altered some rim models:
-- As said earlier, Lowenhart LSR's rims received paintable and textured rim lip
-- Mugen RNR's texture is now lighter. The model remains unchanged, however
-- Some rims received proper LODs: 5zigen Hyper 5ZR, ADR Sokudo10, three HRE rims featured in NFS Carbon, Halibrand Sprint II, Lowenhart LC1, Lowenhart LSR
- Edited modscript to fix the issue with game freezing when loading races with opponents. It's because the original modscript does not change SlotMainOverride in HEADLIGHT SlotType if the one already has TIRE in it, and the game gets confused when both SlotMainOverride and SlotStockOverride are filled with TIRE, so the problem was fixed (thanks to Hard Plus Community for noting this issue)

Version 1.4

uploaded February 2, 2023

Eevee uploaded a new version. The new file is 20.31 MB.

- Replaced and improved some rim models:
-- Speedline Corse Type 2118's model was replaced from Project CARS 3 model to Forza Motorsport 2 model and now has LODs (I forgot to say that I also forgot about those rims which they became the only rims in v1.3 to not have LODs of any kind (no matter if the LODs are proper ones or duplicated); also Forza's SC Type 2118 had screwed up smoothing so I had to manually fix them)
-- Advan Racing SA3R's model was replaced from Initial D Arcade Stage model to Forza Horizon 5 model and now has LODs. Fully paintable variant was added, and the rim style was renamed to Advan Super Advan SA3R to match this rim style's name in Forza Horizon 5.
-- Some rims received proper LODs: Three TSW rims that appear in Need for Speed games, Work VS SS, Gram Lights 57C.
- Edited modscript to check if this rim pack was already installed or not
- Fixed Momo's brand name

Version 1.3

uploaded January 22, 2023

Eevee uploaded a new version. The new file is 20.26 MB.

- New brands: Giovanna (3 new rim styles), Momo (2 new rim styles), Borbet (1 new rim style)
- New styles for existing brands: SSR (Professor SP1)
- Added 1 new tire style
- Fixed some rims whose duplicated LODs were accidentally removed (they, like before, temporarily use copies of LOD_A but I hope they will eventually use LODs some time)
- Altered American Racing AR500's wheel mask texture
- Changed ADR logo

Version 1.2

uploaded December 27, 2022

Eevee uploaded a new version. The new file is 19.02 MB.

- New styles for existing brands: fifteen52 (Two Turbomacs where one is with NFS Unbound style fan and other one is with fan with simplier design), Center Line (Indy and Viking), Speedline (Type 2109)
- Reordered brands that some didn't go in alphabet order (like Foxx was in between Fikse and fifteen52 and Advan between BBS and American Racing)
- Some added rims received LOD models (it would take a while to make full LOD support, so LOD update will be done over time (and also if I have free time); these affected rims in this update include: RS Watanabe Eight Spoke, Center Line Retro (NFS World variant), Compomotive M05, Center Line Indy, Center Line Viking, Speedline Type 2109, American Racing Torq-Thurst, 5Zigen Heidfeld Mesh, All 3 Tenzo-R rims from NFS World (the 4th one comes from Forza, which never existed in NFS at all))
- Updated RS Watanabe Eight Spoke and Veilside Andrew Racing F rim using Blender's Subdivision/Subsurf modifier
- Updated HRE P44SC rim depth scale
- Replaced all Shift 1 and 2 tires with new tire styles with logos based on NFS World tire texture because tread texture on Shift 1/2 tire textures is seamed

Version 1.1

uploaded November 7, 2022

Eevee uploaded a new version. The new file is 18.29 MB.

- Fixed an issue when Lowenhart BR5 was duplicated at the end of the Lowenhart rims list, yet I wanted to be available earlier in the game. Sadly, this was worked around by switching synchrnoize with override.
- Made an option to choose an installation method: Add new rims along with updating vanilla ones, Update vanilla ones only, or Uninstall. Keep in mind that one tire texture would still exist to maximize compatibility with cars that support this rim pack after uninstalling the latter (if the cars in question were installed before the rim pack)
- New brands: Compomotive (3 new rim styles), Fikse (3 new rim styles), Halibrand (1 new rim style), Hole Shot Wheels (2 new rim styles) and OEM (15 new rim styles)
- New styles for existing brands: ADR (Sokudo 10 from NFS Undercover (finally something that one lonely brand received)), Advan (Super Advan Racing Version 2), BBS (LM-R), Speedline Corse (2118)
- Added 10 new tire styles
- Some rim models were updated to not make anything that was MAGLIP (material that didn't exist in Most Wanted) to be affected by custom rim paint (especially when using YTM Paints) by using a different material (METPAINTSILVER was a closest choice imho)
- Some rim models that were originally in chrome finish but are in silver finish in the original version are now in chrome finish by default (since MAGCHROME was used for chrome finish rims (when it uses default paint), but barely used in NFS Most Wanted)

Initial version

uploaded August 10, 2022

Eevee uploaded initial version. The original file is 14.72 MB.