Need for Speed Most Wanted Downloads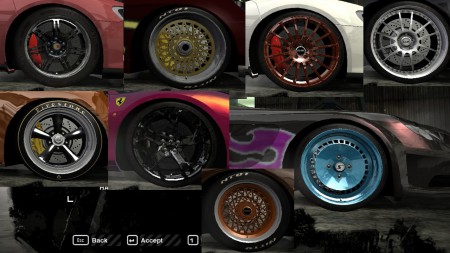 Views 17,006
Downloads 4,021
NFS MW Rims Pack v1.1
Rims mod, which replaces and updates ingame wheels. Most of wheels can be painted and have different sizes.
List of new and updated rims:
5ZIGEN: Hamman Edition Race, 5Zigen FN01RC, 5Zigen ZR520+, 5Zigen GN+, HRE P101
ADR: Asanti AF118, Advan Super Advan Racing Version 2, Rotiform Super Concave BLQ, American Racing Torq-Thrust M, American Racing Razor Shelby
BBS: BBS E53, BBS RS-GT, Mine's Evolution II, BBS E55, BBS RK
ENKEI: Enkei NT03, Enkei RPF1, Enkei RS6, Enkei Tarmac Evo
KONIG: Konig After Burner (wide), Konig Britelite, Schmidt TH Line 2TLG
LOWENHART: Vossen CVT, Vossen CV3, Renault Megane III, Work CR-Kai
RACINGHART: Zender Turbo II, Zender Dynamic, TSW Trackstar 4, MOMO RPM
OZ: OZ Superleggera III, OZ Superturismo GT, IForged Fabulous, HRE C21, HRE C97
ROJA: Work Equip 03, Work XD9, Work Meister S1
VOLK: Volk TE37, Volk RE30, Nismo Z-tune R34
How to install:
!Before installation make backup copy of WHEELS folder and GlobalB.lzc file!
1. Copy WHEELS folder from the archive and paste it to game_directory/cars with replacing files.
2. Run NFS texEd and click Tools/ Patch game files to editing, after select NFSMW directory.
3. Open GlobalB.lzc file through NFS TexEd and select textures archive with ID #2, twice click on it and find PC_LOAD texture, replace this on PC_LOAD texture from archive. Click save and exit.
4. HillustrateM8 said: People with gamepad support on the Widescreen Fixes pack would have to patch the included .BUN files(scripts folder) as well as the GlobalB.lzc file as well…
Credits:
Turn 10/SMS/EA/BB/Firemonkeys/Codemasters/KUNOS Simulazioni - mesh & textures
arushan - NFSMW ModTools
ASC - Updated Geometry compiler
Oleg Melashenko - ZModeler 1.0.7.& 2.2.5
Eclipse 72rus aka CorvetteZ06 - converting to NFS MW