Need for Speed Most Wanted Downloads
1991 Suzuki Cappuccino (EA11R)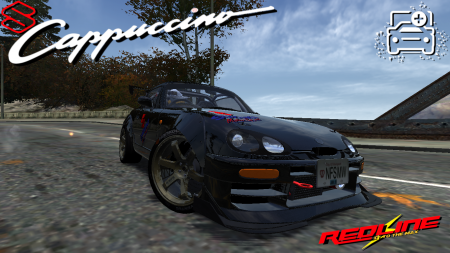 Views 5,734
Downloads 715
This car replaces None (Addon car)
[Introduction] -
This mod aims to add a car named "Suzuki Cappuccino EA11R" inside the game. (Seriously Adorable Car)
[Tool Requirements] -
nfsu360's NFS VltEd V4.6 - https://nfs-tools.blogspot.com/2019/02/nfs-vlted-v46-released.html
MaxHwoy's Binary V2.8.3 - https://nfsmods.xyz/mod/1638
[Mods Required]
nlgzrgn's Unlimiter With Extra Customisation V3 - https://nfsmods.xyz/mod/688
nlgzrgn's NFSMW Extra Options V9.1 - https://nfsmods.xyz/mod/43
[Optional Mods To Make The Mod Even Better]
nlgzrgn's NFSMW Leftover Brakes Fix: https://nfsmods.xyz/mod/2226
[Contents]
1. 6 Body Kits
2. 15 "Car Specific" Spoilers
3. 2 "Car Specific" Rims
4. 2 Hoods
5. 2 Interior
6. Brakes
7. 5 Headlights
8. 5 Taillights
9. 3 Side Mirrors
10. 8 Attachment slots (EC)
[Installation] -
Binary:
1. Run Binary as an Administrator and Click User Mode (Left Icon).
2. Locate the Endscript file and install it.
3. Locate your game folder where you wish the mod will be installed.
4. Let Binary do it's thing, Save Changes. (If it says "Would you like to run the game?", Press no.)
VLTEd:
5. Run VLTEd as an Administrator and locate your NFSMW Installation folder (Use CTRL+O).
6. Import the VLTED Script located inside the mod's folder.
7. Let VLTEd do it's thing, save changes.
8. Start the game, create a new savegame, and enjoy your Cappuccino!
[Issues]:
When Installing this mod, it may break the cars in your last savegame, so create a new one instead.
Vinyls are not included yet
No Issues that I've encountered, If there are, Contact me on Discord (REDLINE™#8173)
[Changelog]:
3/06/2022 - Release
[Credits:]
REDLINE - Convertion + Whole Car Mod (This was fun to do :D)
SaberHS - Scripts and stuff (Thanks friend!)
KenjaMago - NFSMS Scripts (Thank you Bruh!)
Glitchy Team - Huge support B) (Thanks you guys!)
NFSAddons Community - Helping me with modding (Thanks Men and Women of Culture!)
GameModels.ru - Car Model
Emosen - does nothing helping wise (Veri Op man made his way in the credits doin nothing B) )
Pritz8 - again no modding halp but got in here (Chad man respec+++)
[Fun Fact]
This car is very adorable