Need for Speed Most Wanted Downloads
1957 Porsche 356A 1600 Speedster (ADDON)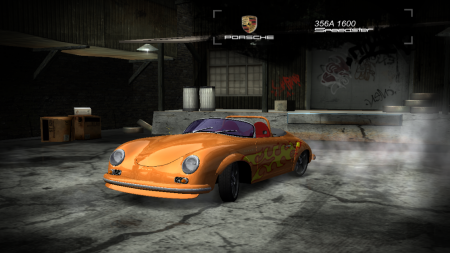 Version Most Wanted
Brand Porsche
This car replaces None (Addon car)
This is my 5th mod uploaded here. This car replaces nothing.
If you want this car mod (modloader version) to replace Mazda RX8, then you can get the mod here: 1957 Porsche 356A 1600 Speedster.
Join my Discord server for discussions relating this : https://discord.gg/tBKjnhrFQc

**UPDATE 1** Fixed the ride height of the added car.

Tuning:
- Bodykits
- Rims
- Performance
- Paint
- Vinyls
- Rim paint
- Window Tint

Features:
- NFS:UC driver model
- Working brakelights
- Available at game start
- Costs 15000 in career mode

Things you will need for installing the mod:
-NFSMW Unlimiter by nlgzrgn : https://nfsmods.xyz/mod/688
*NOTE* I have not installed the latest version of the Unlimiter and so I do not know how it will work on the latest version!
-Ed-The Car Dealer by nlgzrgn: https://nfsmods.xyz/mod/874
-NFS VltEd 4.6 by nfsu360: https://nfs-tools.blogspot.com/2019/02/nfs-vlted-v46-released.html
-Instructions in the README file
Bugs and Issues:
-NOTHING for now. Tell me if you find one.
Credits:
-Eevee aka YochiThMaster333 for the original car mod and granting me permission to release his mod as an addon
-Myself(N4SRazer aka NFSMWFAN) for converting into addon
-nfsu360 for NFS VltEd 4.6 and TexEd 1.7
-MWInside for MW ReCompiler
-nlgzrgn for his NFSMW Unlimiter and Ed-The Car Dealer
-antp.be for Ant Renamer
Version 1.1

uploaded December 7, 2020

N4SRazer uploaded a new version. The new file is 11.33 MB.

**UPDATE 1** Fixed the ride height of the added car.



Initial version

uploaded December 6, 2020

N4SRazer, Eevee uploaded initial version. The original file is 11.33 MB.