Need for Speed Most Wanted Downloads
Porsche Cayman Works Conversion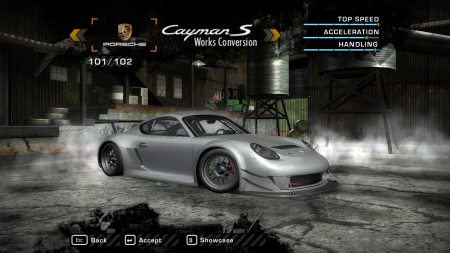 Added On November 21, 2020
Version Most Wanted
Brand Porsche
This car replaces None (Addon car)
Porsche Cayman Works Conversion (from Shift 2) with Unlimiter Support
Addon car mod by EllisRacing for Need for Speed: Most Wanted
Part of the 987 Mod Project for NFSMW by EllisRacing
Current version: 1.1
Links (Blog post, YouTube showcase, Discord server):
https://nfs-modding.ellisworkshop.com/porsche-cayman-works-conversion-mod-need-for-speed-most-wanted
https://youtu.be/-LrexFBaei8
https://discord.gg/EWNJKAB
Why did I take a car from a racing sim and put it in a street racing game? Because Racecar.
The "Works Conversion" is an upgrade option from Need for Speed: Shift 2 Unleashed. It turns the standard factory car into a GT-spec racing beast.
This mod adds this works-converted Cayman variant as a standalone addon car to Need for Speed: Most Wanted.
It also features extra customization options thanks to NFSMW Unlimiter.
Model converted and edited from Need for Speed: Shift 2 Unleashed.
Modified to fit NFSMW's art style and support customization.
Customization options:
Body - spoilers (large ones from Spoiler_Carrera), wheels, hoods, roof scoops. Everything except body kits.
Added parts - extra hoods & roof scoops.
New categories - Roof, Brakes, Headlights, Taillights, Mirrors, Seat, Steering Wheel, Roll cage, Bootlid, License plate.
Performance - NOS, Turbocharger. Nothing else, already top-spec!
Visual - Everything
Tools used:
ZModeler 2 (Conversion from Shift 2)
Blender (Model Editing)
NFS-CarToolkit (Conversion to NFSMW)
Paint.net (Texture editing)
---
Tools Required:
1) Binary v2.4 (as of this mod release, the latest version of Binary is required)
https://nfsmods.xyz/mod/1638
2) VLTed
https://nfs-tools.blogspot.com/p/downloads.html
3) NFSMW Unlimiter
https://nfsmods.xyz/mod/688
How to install:
1) Run Binary
a) Click the icon on the left to launch Binary for users
b) Select "Setup_CaymanW_Binary.end" from this directory
c) Select your NFSMW installation directory
d) Select vinyl size
i) *ONLY select 1024x if you installed the HD 1024x vinyls mod*
ii) If you have no idea what I'm talking about, select 512x, which is the game default.
iii) You must select whichever vinyls are used on the rest of the cars. Otherwise, the game will crash.
e) Select menu logo quality.
f) Save.
2) Run VltEd
a) File -> Open -> select your NFSMW installation directory
b) File -> Import -> ModScript -> select "Setup_CaymanW_VltEd.nfsms" from this directory
c) Select "Install" option
d) Save.
3) Install NFSMW Unlimiter
a) Straightforward, it has its own ReadMe if you need help.
4) Run the game and create a new save file OR patch your existing save file using the save patcher, included with this mod.
a) The save patcher is only useful if you haven't installed any previous versions of this mod before.
i) Run the "SavePatcher" exe and select your save game to patch.
ii) Then, use the "SaveEditor" exe, and simply open your save file and save it again. This is to prevent a bug that prevents the game from loading the patched file.
b) If this mod is already installed, and you're re-installing/updating it:
i) Delete any old customized versions of this car in My Cars or Career. You'll see that your previously saved customized versions of this car are screwed up, but deleting them *should* solve the issue without having to recreate a new save game.
ii) If you're still having issues with this car, or other cars in your profile are screwed up, then your only option is to create a new save game.
---
Credits:
LunicAura106 - Cayman Logo which I borrowed and edited from his excellent HD HUD/UI textures mod: https://nfsmods.xyz/mod/1096
Version 1.1

uploaded January 5, 2021

EllisRacing uploaded a new version. The new file is 31.92 MB.

- Added Unlimiter customization options (many added customization parts)
- Added optional HD secondary logos for the main menu
- Added proper car name string for most languages
- Added uninstall option in Binary & VLTed scripts
- Included optional save game patcher


Initial version

uploaded November 21, 2020

EllisRacing uploaded initial version. The original file is 30.42 MB.