Need for Speed Most Wanted Downloads
2021 Koenigsegg Gemera [Addon / Replace]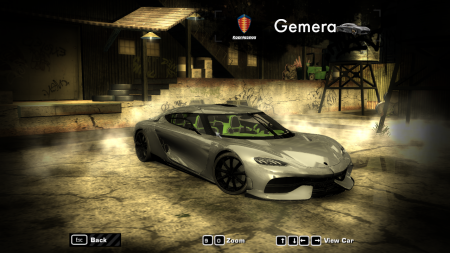 Views 3,691
Downloads 633
This car replaces Porsche Carrera GT (CARERRAGT)
Hello guys,
Koenigsegg Gemera was my 1st convert and that means the car dont have to be perfect in every way
Please take this in mind while complaining how the car is bad etc.
Now let me introduce the car!
2021 Koenigsegg Gemera converted from CSR Racing 2 by Cishy
You can install it via Modloder/ED - The car dealer/Binary
- Customization:
Bodykits (5)
Spoilers included in bodykits
Rims
Roof Scoops
Changable Paint
- Performance
Performance stats are not taken from real numbers!
Car can still have bugs so if you find any tell me about them please!
Changelog:
v1.0
Initial relase
Upcoming:
v1.1
Vinyls and maybe something more
Thanks to:
Woha - For great convert tutorial! Check the tutorial: https://youtu.be/wuo2pWkCvj4
MasterLife - For helping with fixing Bugs and convert to modloader and binary
Aceofsquares3 - Help with fix car height
N4SRazer - Help with mountpoints
LRF Modding - Modloader fix
Hopefully I dont forgot to anybody
Special thanks to:
Woha - He is just a god! He done a lot of work for me and he is still ready to help me
He done so far the best converting tutorial!
His contribution to this mod was insanely huge! Thank you for it!
If you have any problem/question about the mod ask me on discord:
Cishy#0149 or join my server discord.gg/B9pdE2tTA7
Thanks for reading and happy driving!
Cheers,
Cishy