Need for Speed Most Wanted Downloads
2011 Noble M600 (Extended Customization)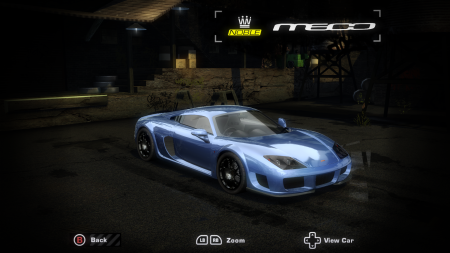 Added On December 15, 2022
Views 1,319
Downloads 187
This car replaces None (Addon car)
2011 Noble M600 (Extended Customization) in baby blue stock paint.
Base model from NFS World Sparkserver, with some parts from NFS Heat, 2015, and World base game.
Customization:
- Body kits (4) - Includes 3 widebodies
- Spoilers (14 unique + vanilla)
- Roof (1) - open side window variant
- Hoods (3) - Stock and debadged variants (includes carbon option)
- Roof scoops
- Rims (includes 6 unique rims from other cars)
- Interior (40) - additional Colors
- Headlights (15) - Color tints
- Taillights (13) - Color tints
- Brakes (15) - Caliper colors
- Attachments (8 slots)
Slot 1: Engine Core Colors
Slot 2: Engine wire colors
Slot 3: Roll Cage
Slot 4: Exhaust
Slot 5: Headlight Layer
Slot 6: Taillight Form
Slot 7: Rear Cover
Slot 8: License Plate Location
- Performance, also includes ebrake performance compatible with ALi Jafari's e-brake check mod)
- Paint
- Vinyls
- Window Tint
- Custom Gauges
Bugs:
When selecting a hood that isn't stock or stock carbon, upon leaving the body customization shop, the cart item returns "FENG: Default string error"
Installation instructions are on the ReadMe file.
Permissions Granted:
1. To convert this mod into other games.
2. To impove this mod by adding more customization into the mod or improving performance.
3. To add this car into repacks such as Redux, Remasters, Pepega Mod, etc.
Credits:
Blender - Software used to work with the model and create the mod.
.CSB - CSR2 models where I got their spoilers from
GM25 - NFS Heat and NFS 2015 models
nfsu360 - NFS CarToolKit software used to export the model and textures into .bin files.
FreeRoam SparkServer - Base model of the car
Note: This is only the download link since like all my other car mods, it's very likely too big to reach the admins.
Download link is here below:
https://www.mediafire.com/file/o1bzrxohven29xz/Noble_M600_Extended_Customization.zip/file
On a side note: This mod got featured by KryZee plays. Thank you so much for featuring this mod:
Here is the video that features this mod: https://www.youtube.com/watch?v=kbxoRBkEYQA