Need for Speed Most Wanted Downloads
2005 Bugatti Veyron 16.4 (ADDON)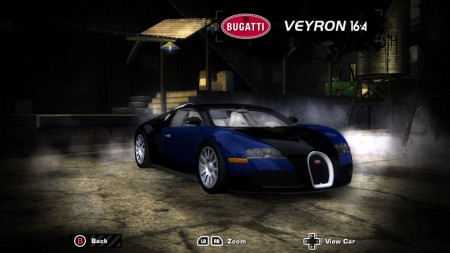 Added On October 24, 2020
Views 21,484
Downloads 3,118
File updated on: November 26, 2020
This car replaces None (Addon car)
THIS is the Single Release of Veyron after I got pain in doing something else or Adding few cars to my game. It replaces nothing, folder name of the Addon Car is now VEYRON164. Requested by NFSMWFAN
Note: I will NOT accept requests for Single Addon Cars now... As I know I was doing important things & adding few cars from Compiled inside the MW Recompiler, I'll be lazy again for next few weeks. Unless you can request a Pack with Specific Brand for 5 or something. Thnx ^^
Get the Bugatti Veyron from ModLoader if you want to replace Ford GT with this
Bugatti Veyron 16.4 2005 converted from NFS ProStreet
Features:
- Realistic Performance
- Window Damage
- New Tire Texture & interior color
- NFS UC Driver
Others:
- Added an uninstallation folder that has an nfsms file included for people to uninstall & install any addon cars they have while the endscript file was in the setup (this will also remove the files for endscript. Extract the files again manually in CARS Folder)
- Silver was set as Stock color in ED Version while Blue was set as Stock color in Binary Version
- A New Secondary Logo from NFS Hot Pursuit 2010 by Neon
- It was made unplayable by Random Opponents due to Skinless body. (However, it's now possible)
- Renewed the Engine Audio of the Mod
It can be customized with:
- Bodykits (2)
- Spoilers
- Rims
- Hoods
- Roof Scoops
- All Performance Upgrades
- All Visuals (Vinyls 512p & 1024p INCLUDED)
Installation:
It's in the Installation txt from Archive
Known bugs/issues: The Vinyls are NOT so accurate on the Addon Car (Including 1024p Vinyls), maybe other vinyls will mess up (a little), at least the other 512p & 1024p vinyls incl. a 512p Official Veyron Paint fits so well. Maybe I'll replace the debug to a new one (It will take even longer on finding a new debug for it). Tell me if you find the others
Credits:
- Converted by McLaren_3Dcm. As of few weeks ago, he FINALLY granted me to release his Mod that was made a decade ago & providing a Link (Like this. The Bugatti Veyron) for the ModLoader Car
- Performance by FOX
- MW Recompiler by MWInside
- Secondary logo from NFS HP 2010 made by Neon
- NFS-VltEd, NFS-ModManager & NFS-TexEd (v1.7) by nfsu360
- NFS MW Unlimiter & Ed - The Car Dealer! by nlgzrgn
- Ant Renamer by antp.be
- Binary v2.2.0 by MaxHwoy
- NFSNL Spirit Festival & 2 official body vinyls by desanosan24.
Version 1.1

uploaded November 26, 2020

Raverz12345 uploaded a new version. The new file is 21.82 MB.

The Addon car now supports Binary Compatibility & separated inside the folder of the file (ED & Binary Files). The CARS Folder was now located in Mod Folder & the Stock Color is Blue in Binary Version. Imma give other changelogs below:

- Remade the Official body & added 2 new vinyls (512p & 1024p). The Veyron Super Sport/Grand Sport Vitesse like body & the NFSNL Spirit Festival Decal! Made by desanosan24
- Reworked performance on the addon car to match the actual speed of the real car (thanks N4SRazer (cuz name change) for changing its performance!)
! A nerf will be coming soon regarding the Acceleration

Initial version

uploaded October 24, 2020

Raverz12345, McLaren_3Dcm uploaded initial version. The original file is 22 MB.