Need for Speed Most Wanted Downloads
1994 Nissan 240SX SE [ADDON]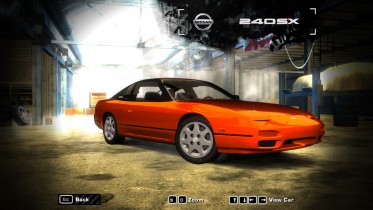 Author:
Rauny_noobexX
Added on: January 7, 2020
Viewed: 463 times
Downloaded: 78 times
Favorited: 0 times
Share this car:Click to copy URL
1994 NISSAN240SX SE – NEED FOR SPEED: MOST WANTED 2005 CONVERSION
Converted by Rauny_noobexX
Converted from Forza Motorsport 4
ADDON/Modloader (GTO)
ATTENTION: The mod is available to be installed using "ED The Car Dealer" as well as using Arushan's modloader. Further details are discussed below.
FEATURES
- NFS Underground 2's Vinyls (Unique Section)
- Spoilers (Hoods Section)
- 6 Bodykits (Stock Included)
- 3 Additional Models of Aftermarket Rims: 5Zigen GN, 5Zigen FNO1RC, Brabus Monoblock
- Brakelight Textures
- NFS Undercover's Driver Model
- Detailed Cockpit
- Small TEXTURES.BIN File
- LODs panels
INSTALLATION
ED THE CAR DEALER (ADDON) – Open the folder "Addon" and drop the contents of the subfolder "ED Files" to the root folder of your ED's directory. Now, run VLTEdit 4.6 as administrator, and import the lone script called "Install.nfsms". Run ED as administrator and select the directory of your MW05, hit Apply then wait for the confirmation.
MODLOADER (Replacement) – Drop the contents of the subfolder "Required" to the root of your MW05 directory.
CREDITS
ArturoPlayerOne (Modding)
Bloodstar (Performance Attributes)
Rosalina (Original Files)
Rita_Vrataski (Addon Version)
NFSU360 (Tools)
Oleg (Zmodeler)
Adobe (Photoshop)
Turn10 (Meshes & Textures)
Damage
Convertible
Dashboard
Class
Vidwall
Serial #
Windows
Licence Plate
Top Speed
0 mph
0 kmh
Polycount
0