Need for Speed Most Wanted Downloads
2005 Mercedes-Benz CLK DTM AMG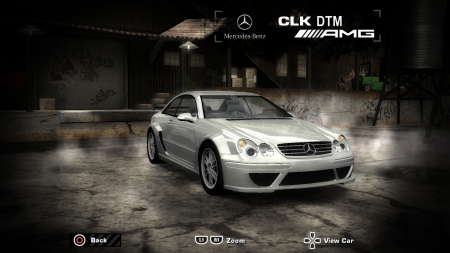 Views 2,973
Downloads 287
File updated on: July 6, 2022
This car replaces None (Addon car)
Mercedes-Benz CLK DTM AMG from Test Drive Unlimited
This is a requested mod by LRF Modding
Customization:
1. Spoilers
2. Rims
3. Roof Scoops
4. Rim paint
5. Vinyls
6. Paint
Custom Stock HUD from TDU1 now added
How to install:
1. you need Binary 2.8.3 and VLTEd, and Unlimiter latest version
2. Install the "install.end" file using Binary
3. Then click save, DO NOT run the game yet.
4. open vlted and install the file "install.nfsms"
5. Done, enjoy
WARNING:
DO NOT REUPLOAD THIS MOD TO OTHER SITE WITHOUT MY PERMISSION
DO NOT REQUEST ME FOR MODLOADER SUPPORT
YOU MUST INSTALL ARCHIE'S CUSTOM HUD MOD BEFORE YOU CAN USE IT: https://nfsmods.xyz/mod/1903
Credits:
Archie for CustomHUD mod
XGΔMΞR from NFSMods for the HD Secondary logo
Eden Games and Atari for TDU models and CustomHUDs
Binary by MaxHwoy
NFS MW Unlimiter by nlgxzef
UndercoverBoy833 for converting to Addon
If needed help or have any difficulties, message me on Discord: Bl4z3_Ice#9037
Version 1.1

uploaded July 6, 2022

Bl4z3_Ice uploaded a new version. The new file is 2.86 MB.

- Added Custom Stock Gauges

Initial version

uploaded July 1, 2022

UndercoverBoy833 uploaded initial version. The original file is 2.78 MB.