Need for Speed Most Wanted Downloads
Mercedes-Benz ML 63 AMG (ADDON)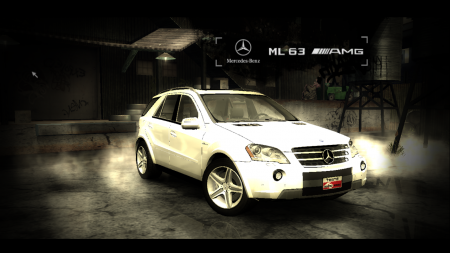 Added On October 31, 2020
Views 1,942
Downloads 342
This car replaces None (Addon car)
The next addon car!!, this time is a solo car, don't worry more is coming.
Installation:
Put the folder ML63 in your game
Put all the files from ED FOLDER where it's belong
Now install the script.
There you go!!! (This car is part of the ADDON CAR PACK #1, such as the Honda Civic CX, the Sedan 1200 , The Chevy Corvette Stingray, and the mini packs #1, #2 and #3, the pack will be available in DECEMBER!!). So far we have 22 cars expect more in the future or more mini-packs!!!.
About the SUPERCARS mini pack, It will be 7 supercars, these are:
Lamborghini Huracán LP610.
Aston Martin V8 N400.
Chevrolet Corvette Grand Sport.
Mercedes-AMG GT.
Porsche 918 Spyder Concept (requested by @Santty12).
RUF CTR9
Audi R8 V10 (requested by @Santty12).
BONUS: Aston Martin Vulcan (requested by @NFSMWFAN).
And the HatchBack edition:
Suzuki SX4 Sportback
Audi RS3
Ford Focus ST
Mercedes-Benz A45 AMG
Subaru Impreza WRX STI HB (requested by @XaRaider927)
BMW M135i

BONUS: Kia Cee'd
Stay tuned for more details about the SUPERSPORT pack and the FINAL mini-pack!!!
What's next
Porsche Cayenne Turbo (2012) (BONUS part of the ADDON CAR PACK).
Audi RS2 Avant. (part of the mini-pack #4)
Subaru Impreza WRX STI HB (part of the mini-pack HB edition) (requested by @XaRaider927).
Renault Alpine. (part of the mini-pack #4)
Suzuki SX4 Sportback (part of the mini-pack HB edition).
Maserati Quattroporte. (part of the mini-pack #4)
Audi RS3 (part of the mini-pack HB edition).
HUMMER H1 Alpha (part of the mini-pack #4).
Lamborghini Murcielago LP640. (part of the mini-pack SUPERSPORT edition).
BMW 135i (part of the mini-pack #4)
Saleen S281 Coupe (part of the mini-pack #5 - THE FINAL)

Audi S4 (part of the mini-pack #5 - THE FINAL)