Need for Speed Most Wanted Downloads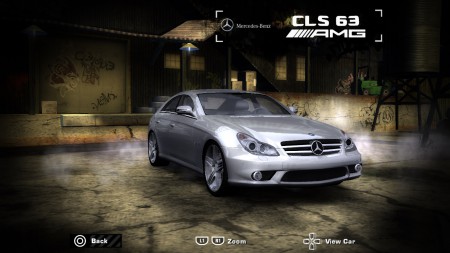 Added On September 16, 2020
Views 1,749
Downloads 389
Version Most Wanted
Brand Mercedes-Benz
This car replaces None (Addon car)
This mod replaces nothing & folder name of the car is CLS63. Sorry for too long after I converted it to addon early & got bored in few days for the request. It was requested by TEARSTREAT8015
Get the Mercedes Benz CLS63 AMG from ModLoader if you want to replace SL500 with it

Mercedes-Benz CLS63 AMG 2007 converted from NFS Undercover
Features:
- New Performance Data
- LODs
- Working Brakelight Texture
- NFS UC Driver
- HD Secondary Logo
- 5 Special Colors in Contest Winners Section
Others:
- Added an uninstallation folder that has an nfsms file included for people to uninstall & install any addon cars they have

- Black was set as Stock Color in ED Version while Silver was set as Stock Color in BInary Version.
It can be customized with:
- Parts: Bodykits (5), Spoilers, Rims, Hoods & Roof Scoop
- All Performance
- Visuals such as paint, vinyls, rim paint, etc.
- Window Tints
Installation:
It's in the Installation txt for ED & Binary from Archive

NOTE: Install cars using ED BEFORE Binary or else, Binary before ED will LOSE all Binary cars! I understand that statement from Pepega Mod Discord Server.

Known bugs/issues: None. Tell me if you find one

Credits:
- Converted by Eclipse72rus. Also granted me to add his car mods in NFS MW BUT to credit him & provide the link for the ModLoader car.
- Performance by Eclipse72rus himself
- New Carbon Fiber dds Texture used in customized CLS63 was made by AJ_Lethal
- MW Recompiler by MWInside
- NFS-VltEd & NFS-TexEd (v1.7 & v0.9.1) by nfsu360
- NFS MW Unlimiter & Ed - The Car Dealer! by nlgzrgn
- Ant Renamer by antp.be
- Binary v2.2.0 by MaxHwoy
Version 1.1

uploaded November 20, 2020

Raverz12345 uploaded a new version. The new file is 4.43 MB.

The Addon car now supports Binary Compatibility & separated inside the folder of the file (ED & Binary Files). The CARS Folder was now located in Mod Folder & the Stock Color is Silver in Binary Version. I also added an extra screenshot for this Mod

Initial version

uploaded September 16, 2020

Raverz12345, Eclipse 72rus uploaded initial version. The original file is 4.42 MB.