Need for Speed Most Wanted Downloads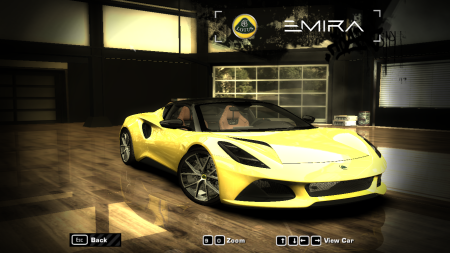 Added On December 19, 2022
Views 1,434
Downloads 304
This car replaces None (Addon car)
Need for Speed: Most Wanted
2022 Lotus Emira
Made BY JG Abagat
Converted from Angel_NFSW's car
Credit to Angel_NFSW for the permission
Replacement: None
Car folder name: (XNAME) EMIRA
replacement here:
https://nfsaddons.com/downloads/nfsmw/cars/lotus/7582/2022-lotus-emira.html
Features:
Customization
Tuning:
- Performance
- Wheels
- Visuals
Features:
- Working stop lights
- Driver from NFS UC
- Nissan 350Z sound
Installation:
0a. Download NFSMW-Unlimiter by nlgxzef: https://nfsmods.xyz/mod/688
0b. Download Binary: https://nfsmods.xyz/mod/1638
1a. Install car data required using Binary: v2.5.5 and upper
1b. Run Binary an admin.
1c. Select Modder Mode. (I WAS VERY HARD AT USER)
1c.1. IMPORTNANT: PLEASE MAKE SURE THAT THE GAME PATH IS REMOVED, BY OPENING THE END FILE THEN FIND DIRECTORY AND EXTRACT TO YOUR MOST WANTED GAME FOLDER.
1d. Hit "Load Files" and select install.end
1e. Open the "GLOBAL\GLOBALB.LZC, copy the node for the "A3" and copy "EMIRA" from CarTypeInfos, Collsions, and DBModelParts.
1f. Go to LANGUAGES\ENGLISH.BIN\, click "Open Editor", and name the label "CARNAME_LOTUS_EMIRA' and name it 2022 Lotus Emira.
1g. Go to FRONTEND\FRONTB.LZC, mount to TPKBlocks and hit "Open Editior", then go to Texture > Add Texture and open the secondary logo SECONDARY_LOGO_EMIRA.dds file.
1g.1. Optional step:
You can replace and find the CARSELECT_MANUFACTURER_LOTUS into HD Lotus manufacturer.
1h. And, we almost forgot: Open the DBModelParts node and copy another node like we did before and double-click on the newly created node, this screen will appear. We need to rename all the nodes here to make the add-on model work, to do that in one shot go to Car Parts > Find and Replace, input the XNAME to replace, click OK, then input the new XNAME (EMIRA) and hit OK. The next prompt will ask you if you want to make the replace case-sensitive; leave it unchecked and click OK. Now the nodes will have the correct name as shown below
1i. Hit "Save Files" or Crtl + S and quit Binary.
1j. Manually extract EMIRA to CARS folder.
2a. Install required vault data using NFS-VltEd: (Compatible with NFS-VltEd v4.5 and upper)
2b. Download the latest version of VltEd: https://nfs-tools.blogspot.com/p/downloads.html
2c. Run VltEd as admin.
2d. Select your NFS Most Wanted game directory.
2e. Select "emira_install" from the dialog and hit OK.
2f. The dialog will appear. Hit "Install" from the dialog.
2h. Hit "Save" or Crtl + S and quit VltEd.
3. Run speed.exe as admin and create a new save game.
4. Enjoy your new ride!
Known issues/bugs:
bugs: none are there
issues: None are there.
Tools used:
Recomplier, TexEd 1.7, Binary 2.8.3, and VltEd 4.6
Credit to:
Angel_NFSW for the permission