Need for Speed Most Wanted Downloads
Lotus Exige S 2012 (ADDON)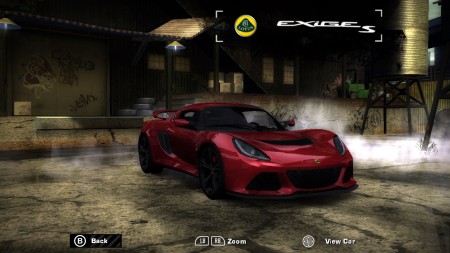 Views 2,572
Downloads 547
Version Most Wanted
Brand Lotus
This car replaces None (Addon car)
My 1st Lotus Addon car released in this website. This mod replaces nothing, folder name of the car is EXIGES2012
If you want the ModLoader version of the car, you can get the 2012 Lotus Exige here if you want to replace Golf with it
If you want more mods, visit League Auto City for more car mods:
https://www.facebook.com/leagueautocity
Lotus Exige S converted from Forza Horizon
Features:
- Stock Paintable bodykit (Vanilla color material)
- License Plate is accessible under hood
- Rims are used for the Addon Car (However, its rims might have a known issue)
- New & improved performance data
- Special anti-theft measures: a special chrome 3D model in interior and a special dds in Textures.bin
Others:
- Added an Uninstallation folder that has an nfsms file included for people to uninstall & install any addon cars they have while the endscript file was in the setup (this will also remove the files for endscript. Extract the files again manually in CARS Folder)
- Added an ini file in Mod/scripts/UnlimiterData Folder to have customization visibility whatever the mods have or don't have parts & visuals, only in Unlimiter v3

- Metallic Green was set as Stock color in ED Version while Orange was set as Stock color in Binary Version
- Very great acceleration, good top speed (now it's decent) & balanced handling. It can compete against Supercars & original cars such as SLR & Carrera GT in Tuned. It was tested by myself
Installation:
It's in the Installation txt from Archive
Known bugs/Issues: None. Tell me if you find one

New Issue (Known): This issue on Aftermarket rims are the same as S5S Raptor, Zenvo & One-77. I recommend you to use Leftover Brake fix by nlgzrgn (came from Marussia B2's issue)
Credits:
- Extracted, converted & retexture by AC Lambor. Also granted me to add his car mods in NFS MW BUT to credit him & provide the link for the ModLoader car.
- Screenshots provided by Black Era
- Performance by Typhoons, renewed performance made by me
- MW Recompiler by MWInside
- NFS-VltEd & NFS-TexEd (v1.7) by nfsu360
- NFS MW Unlimiter & Ed - The Car Dealer! by nlgzrgn
- Ant Renamer by antp.be
- Binary v2.4.0 by MaxHwoy
Version 1.3

uploaded December 24, 2020

Raverz12345 uploaded a new version. The new file is 1.58 MB.

Few things & changes listed in Changelogs:
- Lowered Geometry file size using CarToolkit
- Added a new command in uninstall endscript (from install endscript file)
- Shortened the name in the setup endscript (again, from install end file)
- A screenshot was replaced with another screenshot for the mod

Version 1.2

uploaded November 26, 2020

Raverz12345 uploaded a new version. The new file is 1.29 MB.

The Addon car can be unlocked by beating Webster, Blacklist no. 5 due to extreme acceleration & increased the Price of the car (It now cost 100,000). I also added few screenshots as well

Version 1.1

uploaded November 9, 2020

Raverz12345 uploaded a new version. The new file is 1.29 MB.

The Addon car now supports Binary Compatibility & separated inside the folder of the file (ED & Binary Files). The CARS Folder was now located in Mod Folder & the Stock Color is Orange in Binary Version. There are few changelogs below:

- Top Speed was slightly decreased at 373 km/h, nothing changed on acceleration & handling.
- The engine audio (inf_g35) was replaced with Lotus sound in stock.

Initial version

uploaded August 26, 2020

Raverz12345, ACLambor uploaded initial version. The original file is 1.29 MB.