Need for Speed Most Wanted Downloads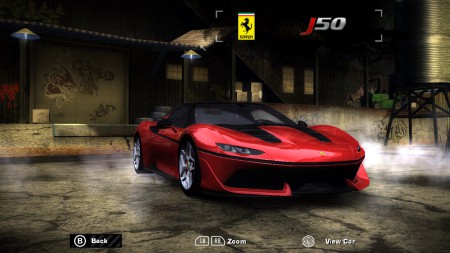 Added On November 26, 2020
Views 1,854
Downloads 456
This car replaces None (Addon car)
This mod replaces nothing, Xname of the Addon Car is J50
Get the 2017 Ferrari J50 from ModLoader if you want to replace Elise with it
Ferrari J50 converted from Real Racing 3
Features:
- New Performance data
- LOD Parts
- Working brakelight texture
- Semi-detailed Interior
- NFSUC Driver
- HD Logos
- Scratches
- 5 Special colors in Contest Winners (512p. Full Vinyl support coming soon!)
Others:
- Added an uninstallation folder that has an nfsms file included for people to uninstall & install any addon cars they have while the endscript file was in the setup (this will also remove the files for endscript. Extract the files again manually in CARS Folder)
- Red was set as stock color in ED & Binary version (but lighter color in BInary ver.)
- It can remove license plate in Bodykits using Debug car customize from ExOpts
It can be customized with:
- Bodykits (1, J50 License plate)
- Spoilers
- Hoods (removable roof)
- Rims
- All Performance upgrades
- Visuals
- Window Decals
Rest not mentioned are NOT customizable
Installation:
It's in the Installation txt for ED & Binary from Archive
Known bugs/issues: None. Tell me if you find the others
New Issue: As expected when checking every single vinyls, still the same as Viper GTS, ZL1, etc. And it was not fit properly for its Debug on most vinyls
Credits:
- Converted by Eclipse72rus. Also granted me to add & release his car mods in MW BUT to credit him & provide the link for the ModLoader car
- Performance by Eclipse72rus himself
- MW Recompiler by MWInside
- NFS-VltEd & NFS-TexEd (v1.7 & v0.9.1) by nfsu360
- NFS MW Unlimiter & Ed - The Car Dealer! by nlgzrgn
- Ant Renamer by antp.be
- Binary v2.5.5 by MaxHwoy
Version 1.1

uploaded January 12, 2021

Raverz12345 uploaded a new version. The new file is 4.25 MB.

Things & changes listed in Changelogs:
- The Addon car now has a Full Vinyl support! However, it may cause issues on other vinyls with its debug. Only in 512p
- Added an ini file in Mod/scripts/UnlimiterData Folder to have customization visibility whatever the mods have or don't have parts & visuals, only in Unlimiter v3
- Added a command in uninstall endscript (install endscript)
- shortened the name of the setup endscript (install endscript)

Initial version

uploaded November 26, 2020

Raverz12345, Eclipse 72rus uploaded initial version. The original file is 1.83 MB.