Need for Speed Most Wanted Downloads
Ferrari F12berlinetta 2013 (ADDON)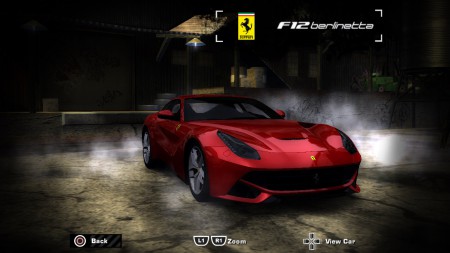 Views 4,473
Downloads 995
Version Most Wanted
Brand Ferrari
This car replaces None (Addon car)
This mod replaces nothing, Xname of the Addon Car is F12BERLINETTA
I'll put the link below for the ModLoader version of this mod:

https://www.facebook.com/leagueautocity/posts/372954853105102

If you want more mods, visit League Auto City for more car mods:

https://www.facebook.com/leagueautocity
My Addon car gets featured & Video provided by KryZee on YouTube!
Link on his gameplay: https://www.youtube.com/watch?v=AHT-F2a2574
Ferrari F12berlinetta converted from Forza Horizon
Features:
- Stock paintable bodykit (Vanilla color material)

- License plate is accessible under Hood
- Realistic performance data
- Special anti-theft measures: a special chrome 3D model in interior and a special dds in Textures.bin
Others:
- Added an Uninstallation folder that has an nfsms file included for people to uninstall & install any addon cars they have while the endscript file was in the setup (this will also remove the files for endscript. Extract the files again manually in CARS Folder)
- Red was set as Stock Color in both ED & Binary Version
Installation:
It's in the Installation txt from Archive

Known bugs/Issues: None. Tell me if you find one
New Issue: It was the same issue as V12 Zagato, 918 Concept Study (from Porsche ACP), C-X75, etc. Regarding Aftermarket rims. I recommend you to install Leftover Brake fix by nlgzrgn, in order to use Aftermarket rims (came from Marussia B2's Issue)
Updates are now placed in Changelogs below

Credits:
- Extracted, converted & retexture by AC Lambor. He granted me in pm to release his car mods I converted in NFS MW BUT to credit him & provide the link for the ModLoader car.
- Screenshots provided by PompousMWQ
- Performance by Typhoons

- MW Recompiler by MWInside (Currently)
- NFS-VltEd & NFS-TexEd (v1.7 & v0.9.1) by nfsu360
- NFS MW Unlimiter, NFS-CarToolkit & Ed - The Car Dealer! by nlgzrgn
- Ant Renamer by antp.be
- Binary v2.4.0 by MaxHwoy
Version 1.5

uploaded December 25, 2020

Raverz12345 uploaded a new version. The new file is 1.49 MB.

Some things & changes listed in Changelogs:
- Added an ini file in Mod/scripts/UnlimiterData Folder to have customization visibility whatever the mods have or don't have parts & visuals, only in Unlimiter v3
- Added a command for the uninstall endscript (install.end)
- Slightly increased weight to match the F12's irl weight
- Decreased its Handling Rating on pvehicle node
- A little increase on its Induction
- Fixed its Reflection Offset

Version 1.4

uploaded December 2, 2020

Raverz12345 uploaded a new version. The new file is 1.2 MB.

The Addon car now supports Binary Compatibility & separated inside the folder of the file (ED & Binary Files). The CARS Folder was now located in Mod Folder. Some few changelogs below:

- The Special colors has been REMOVED
- Frontend name/node has changed. Make sure to replace its old frontend name with a new one.

Version 1.3

uploaded October 28, 2020

Raverz12345 uploaded a new version. The new file is 1.2 MB.

The Issue on 4th Gear was solved (seen on KryZee's gameplay) & Top Speed was decreased to 361 km/h

Version 1.2

uploaded September 20, 2020

Raverz12345 uploaded a new version. The new file is 1.2 MB.

Added a gear ratio on its transmission, buffed its acceleration and decreased its handling rating (but it's still like this in handling stat when you see in "Car Select"). I also change its Collision on its Model field & added additional screenshots for the mod. Make sure to uninstall & reinstall it to take effect of this Addon

Version 1.1

uploaded August 30, 2020

Raverz12345 uploaded a new version. The new file is 1.2 MB.

Forgot to edit its config file that was outdated anyway... I removed the spoilers soz.

Initial version

uploaded August 22, 2020

Raverz12345, ACLambor uploaded initial version. The original file is 1.2 MB.