Need for Speed Most Wanted Downloads
2011 Dodge Challenger SRT-8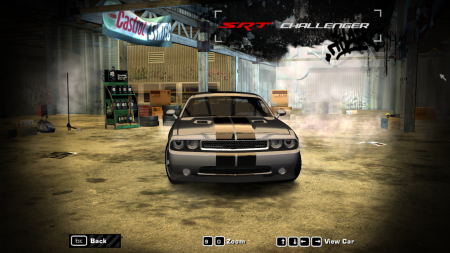 Added On November 12, 2019
Views 10,142
Downloads 1,631
This car replaces Mercedes-Benz SL 500 (SL500)
=============================================
2011 Dodge Challenger SRT8 - NFSMW Conversion
Replacement for Mercedes SL500
Converted by Rauny_noobexX from Need for Speed Most Wanted (2012)
Ripped by Rauny_noobexX
=============================================
ATTENTION: TO THE PEOPLE WHO FORGOT ABOUT MODLOADER AND ARE ONLY PLAYING ADDONS CONVERSIONS NOW, THIS MOD WAS NOT MEANT FOR YOU. IT IS A STANDARD REPLACEMENT MOD MADE BY ME AND I DON'T THINK I WILL RELEASE AN ADDON VERSION ANYTIME SOON. MODS FOR NFSMW 2005 WERE RELEASED ON THIS FASHION FOR OVER 13 YEARS, AND I DON'T THINK I WILL CHANGE THE STYLE OF MY CONVERSIONS ONLY TO PLEASE KIDS. IF YOU DON'T LIKE IT, THEN DON'T DOWNLOAD IT. YOU HAVE BEEN WARNED.
Mod Description:
"The Challenger SRT8 may not look like much, but it's a well-equipped and a really fast car. Its quick acceleration makes it a good choice for drag races or to get from point A to B in a hurry. It's not suitable for races having closed corners, however, due its low steering response. At the expense of a less detailed exterior and interior, it has a low polygon geometry, meaning it can run just fine for most of the system configurations available."
Can be customized with:
- Custom gauges
- Body Paint
- Rims
- Bodykits
That's it.
Bodykits Option:
There are 6 bodykits options for this conversion you can be finding at body shop. There you can find for the first three bodykits (Stock, Bodykit 1, Bodykit 2), the standard body's material plus a different color for the double stripes (black, white and blue respectively). For the last three bodykits, you will also be finding the same stripes options available with the differential being the body's material, which bears now a metallic aspect.
General Performance:This conversion has an arcade handling style, meaning that you can expect anything of it but a realistic performance data.
Arushan-modloader/modtools
Oleg-Zmodeler
Adobe-Photoshop
nfsu360-for his amazing tools inventory