Need for Speed Most Wanted Downloads
2016 BMW M2 Coupe [Replace | Addon]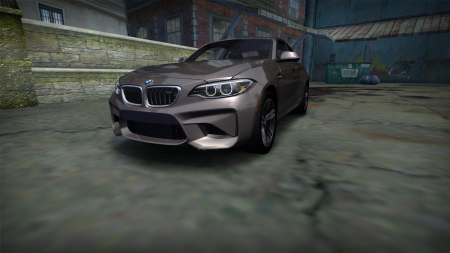 Views 8,775
Downloads 1,198
File updated on: August 31, 2021
This car replaces Audi A4 3.2 FSI quattro (A4)
=====================================================================
2016 BMW M2 Coupé [F87] - Need for Speed Most Wanted 2005 Conversion
Converted by Rauny_noobexX
Meshes and Textures from Forza Horizon 4
Attributes by LRF Modding
Modloader version replacing Audi A4
=====================================================================
Features:
- Realistic Brakelight Textures
- Realistic Headlight Textures
- Criterion's Driver Model (Need for Speed Most Wanted 2012)
- Performance Attributes
Bodykits:
Stock Bodykit - No visual modifications
Bodykit #1 - Same as stock but with a paintjob
Bodykit #2 - New spoiler, rear bumper and exhausts
Bodykit #3 - Same as Bodykit #2 but with a paintjob
Bodykit #4 - New spoiler, rear bumper, exhausts, sideskirts and front bumpers
Bodykit #5 - Same as Bodykit #4 but with a paintjob
========
Credits Goes to:
ArturoPlayerOne (Modding)
Raverz (Addon Version)
NFSU360 (Various Tools)
Arushan (ModLoader)
Oleg (Zmodeler)
Adobe (Photoshop)
Turn10 Studios (Meshes & Textures)
Criterion Games (Meshes & Textures)
LRF Modding (Performance Attributes)
Neon (A few ideas)
and Especially to:
Blender Foundation (Blender Software)
============
Note from the author: Yeah, yeah, I think my words for leaving moddings have been all lie, since I have posted several mods lately. I will continue posting conversions and etc. for those who are wondering. So, I am ditching my retirement as my time availability allow me - but don't expect anything above my capabilities.
Version 1.1

uploaded August 31, 2021

LRF Modding uploaded a new version. The new file is 9.74 MB.

Added Binary addon. Thanks to Raverz!

Initial version

uploaded August 22, 2021

Rauny_noobexX uploaded initial version. The original file is 6.31 MB.