Need for Speed Most Wanted Downloads
BMW M3 GTR (NFS Heat Edition)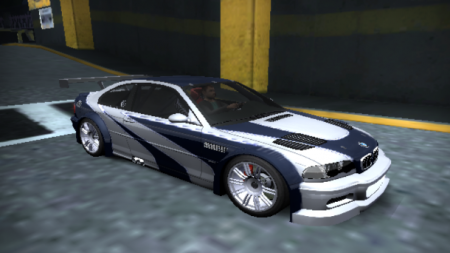 Views 5,272
Downloads 951
Version Most Wanted
Brand BMW
This car replaces BMW M3 GTR (E46) (BMWM3GTRE46)
Please read the installation carefully or you will mess it up.
(Update 1.3= Textures update - NFS Heat Headlights/Backlights, Black Interior, LRF Modding's edit to the plate)
The request for uploading this car was from RzrDrake and here it is! The M3 in its legendary edition.
[!]
Comes with an XBOX / Forza / Hoonigan license plate
[!]
This car was mainly the fully customizable M3. (except performance excluding Junkman) If you can not see full customization options, I recommend downloading nlgzrgn's Extra Options v8
The sound used to be broken, so I repaired it.
INSTALLATION / READ CAREFULLY: (You can make backups if you want)
-Extract the files anywhere
-Copy SOUND to you game folder
-Copy / move BMWM3GTRE46 to your CARS folder
-Open TexEd 0.9.1 (if you do not have, download) and go to GLOBAL folder > GLOBALB.BUN and GlobalB.lzc and replace the license plate in both archives. (ID of texture: 38)
Open VltEd (if you do not have, download), choose your game folder (I recommend make backup) and import my modscript given in the download.
-Run the game and follow the vinyl pictures above to make the right color (Stripe 1)
YOU ARE NOT ALLOWED TO UPLOAD ANYWHERE ELSE. (No permissions)
Hope you enjoy this mod.