Need for Speed Most Wanted Downloads
Pagani Zonda F (Rockport Police Department)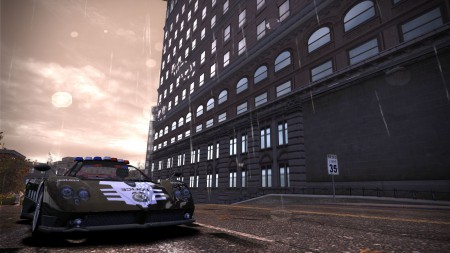 Added On September 3, 2018
Views 12,492
Downloads 1,351
Version Most Wanted
Brand Pagani
This car replaces Police GTO (COPGTO)
Car converted by Excelerate and Tails
____________________________________________________________________________________________________________________
Type of mod: Car
Model: Pagani Zonda F (Rockport Police Department)
Replaces: COPGTO
Known bugs: None so far. There's no damage, but there's a possibility that will be fixed in future.
Car can be customized with:
-rims
-window tints
-some other bits (don't expect too much, it's a cop car after all)
Credits:
Excelerate - Initiating the conversion, defining most of the materials, remapping the car for the skin etc.
Tails - Putting the car in game, finishing the conversion, making the cop driver skin
EA Games - Model (NFS:PS)
nfsu360 - nfstc texture compiler
Arushan - mod tools
FOX - tip, support, templates for vlt editing
How to install the mod:
1. Get a NFS:MW Mod Loader by Arushan. (You can easily find it on the internet.)
2. Extract the content of "ADDONS" map of my mod to "ADDONS" map of your NFS:MW with Mod Loader.
3. Open the game and enjoy your Pagani!
Do not upload it on any other site without my permission. You can provide link, but not upload any part of this mod.
____________________________________________________________________________________________________________________
10.1.2013. - fixed skin problem, should be pretty much bug-free now