Need for Speed Most Wanted Downloads
1999 Nissan Skyline R34 GT-R V.Spec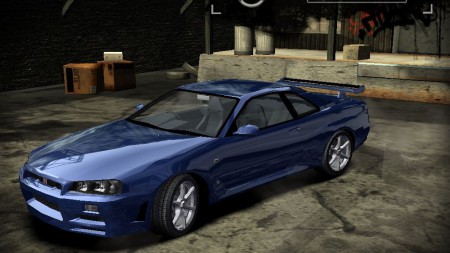 Added On December 5, 2008
Views 131,745
Downloads 30,944
This car replaces Cadillac CTS (CTS)
This car was converted from the game 'Need For Speed : Underground 2' by Jakob. I have now successfully converted it to NFS:Most Wanted. This car is fully customizable & has original vinyls from Need For Speed : Underground 2. Not only that, it also has original performance of Skyline & also original Skyline engine sound. I have worked very hard to improve this car to achieve perfection. It took my 1 & half month to successfully convert it with null shortcomings.
------->CREDITS<-------
-Jakob for the mesh & textures.
-Radu-Cristian for some help & textures.
-911 Turbo for vinyls.
-filipino_Racer for some help.
-RC Integra for interior.
-TypeRed for the showroom logos.
-hansip87 for the 2 Fast 2 Furious Skyline stripe vinyl.
THANKS TO THEM.

THIS CAR REPLACES CADILLAC CTS.
------->INSTALLATION<-------
1:>Copy modloader & d3d9.dll to your NFS9:MW directory.
2:>Make a new folder ADDONS in your NFS9:MW directory.
3:>In the ADDONS folder again make 2 new folders named CARS_REPLACE & FRONTEND.
4:>Copy the folder CTS inside the CARS_REPLACE folder.
5:>In the FRONTEND, make a new folder MANUFACTURERS & copy 33-NISSAN inside it.
6:>Create a shortcut of Speed.exe which is inside your directory where you have installed NFS:MW. Right click on the shortcut & click on Properties. Then in the target box add '-mod' at the end without commas. Then click on Apply & OK.
7:>Then run the game & select Cadillac CTS. Nissan SKyline will be visible instead of it.

------->CUSTOMIZABLE FEATURES<-------
1:>PARTS:-
Add roof scoop.
-Change rims.
-Change bodykit. Total 6 kits including the stock.
-Change hood.
-Change spoiler.

2:>PERFORMANCE:-
-Stock performance is the ORIGINAL PERFORMANCE OF NISSAN SKYLINE. For the maximum performance parts, I have improved the acceleration, braking, top speed, handling & pickup. The top speed when performance is full is 419 KMH but only possible with nitrous.
3:>VISUAL:-
-Change paint.
-Change rim paint.
-Change Window tints.
-Change speedometer.
-Add decals.
-Add vinyls.
IN SHORT, EVERYTHING IS CUSTOMIZABLE EXCEPT FOR NUMBER DECALS.
------->INFORMATION ON USE ON EMAIL<-------
Email me only if:-
-You have problem installing the model.
-You want to modify, tune or convert this car to other games.
-You have complaint regarding this car.
-You seen some bugs in this car.
I WILL DEFINITELY HELP YOU.
Do not email me if:-
-You want to request me to convert a certain car.
-You want the car to be replaced on another car.
I WONT HELP YOU & YOUR MAIL WILL BE IGNORED & DELETED.
------->LAST REQUESTS<-------
I have invested a lot of time in converting many cars to NFS:Most Wanted. I improve with every conversion & it takes lot of time & effort to convert cars to Most Wanted. It is a tough job to fix wheel & light positions. So please respect my work. Please dont steal & make duplicate copies of this car.
By downloading this car, you have agreed to the following:-
1:>You are not allowed to use any part of this car without my permission.
2:>You are not allowed to tune, modify or convert this car to other games without my permission.
3:>You are free to upload this car to any website provided that the files, author & screenshot remains the same. -
------->KNOWN BUGS<-------
-The names of the hood are the same as they are for other cars.
-For some vinyls which have 2-3 colours, you can change the colour of only 1 or 2 vinyls.
-This car doesnt have bodykits.
I DONT ACCEPT CAR REQUESTS. SO DONT ASK ME TO CONVERT ANY CAR. I AM NOT GOING TO CHANGE THE REPLACEMENT OF THIS CAR ON ANOTHER CAR. ABOUT THE SCREENSHOTS, I AM NOT A RICER. I AM JUST SHOWING THE DETAILS ABOUT HOW MUCH YOU CAN CUSTOMIZE THIS CAR. Well enough chit chat now. Thank you for your time in reading all this. Now what are you waiting for? Just download & install this model & show the other racers your brand new sweet ride. ;) ENJOY & HAVE FUN..... - Ark-X Stylizer (Stingers Super NFS:MW Convertor)