Need for Speed Most Wanted Downloads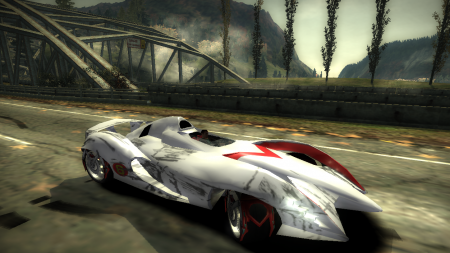 Added On December 29, 2020
Version Most Wanted
Brand Auto Union
This car replaces None (Addon car)
Converted from: Speed Racer The Videogame (Wii)
Replaces: Nothing
Car folder name (XName): MACH6
Customization:
Parts:
- Body Kits: No.
- Spoilers: No.
- Rims: The 'M' thing gets bugged in the ADR M Sport (Vanilla issue with brake marker=
- Hoods: No.
- Roof Scoops: Funny position, i hate it
Visual:
- Rim Paint
- Window Tint
- Decals, all except window ones
- Numbers
- Custom Gauges
Performance:
- Engine: 1 Upgrades
- Transmission: 1 Upgrades
- Suspension: 1 Upgrades
- Nitrous: 1 Upgrades
- Tires: 1 Upgrades
- Brakes: 1 Upgrades
- Turbo: 1 Upgrades
Issues:
-Broken Normals.
-Doesnt steer the 4 wheels.
-Cant flip by controls.
-Im expecting someone ranting bout it for not being fully customizable.
-UV Map is a bit broken in the side, and the uvs are weird for the proportions, wtf you expect from the mach 6.
-The red M in the vinyl is kinda messed due to proportions
Features:
-I recommend using Speedbreaker + Nos for stunts like the movie.
-+400Km/h stock, +700Km/h fully upgraded.
-Infinite Nos like movie and videogame.
-Handbrake to drift.
-Vinyl in Unique section
Credits To:
-Natr02 and Blackjack for Speed Racer: The Videogame models.
-nfsu360 For CarToolkit And Vlted.
-Oleg Melashenko For Zmodeler.
-Blender Foundation for Blender.
-Mati The Mudkip for helping in 3d headlights and brakelight. (kinda messed but there)
-Viper4K for finding the wheels, and me for editing them
-AlbinoBuffalo80/Me For Converting.