Need for Speed Most Wanted Downloads
2009 Audi RS6 (C6) (Unlimiter v4 Supported Extended Customization)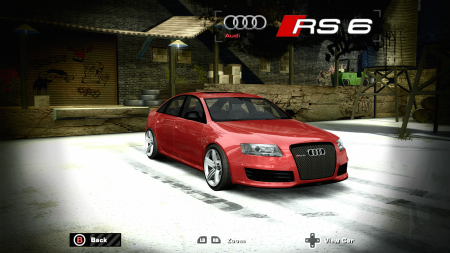 Views 3,803
Downloads 526
This car replaces None (Addon car)
Audi RS6 (C6) (Extended Customization) in Misano Red stock paint.
Base model from Forza Motorsport 4 with parts from Real Racing 3, NFS World (base game and Sparkserver), and NFS Heat
Customization:
- Body kits (3) - 2 with wide fenders
- Spoilers (14 unique + vanilla)
- Hoods (3) - Stock and custom hoods, with carbon variants
- Rims (4 custom paintables)
- Interior (40) - Color options
- Headlights (15) - Color tints
- Taillights (13) - Color Tints
- Brakes (15) - Caliper colors
- Attachments (5 slots)
Slot 1: Exhausts
Slot 2: Weight Reduction (Remove Passenger Seat)
Slot 3: Roll Cage
Slot 4: License Plate Location
Slot 5: Trunk Lid
- Performance

- Paint
- Vinyls
- Window Tint
- Custom Gauges
Permissions Granted:
1. To convert this mod into other games.
2. To improve this mod by adding more customization into the mod or improving performance.
3. To add this car into repacks such as Redux, Remasters, Pepega Mod, etc.
Credits:
Turn 10/Microsoft - Base Model
Blender - Software used to work with the model and create the mod.
GM25 - Parts from Real Racing 3 models
nfsu360 - NFS CarToolKit software used to export the model and textures into .bin files.
Freeroam SparkServer - Some of the customization parts
Download Link is here below:
https://www.mediafire.com/file/pbwg4rm1o0y76k9/Audi_RS6_%2528C6%2529_Extended_Customization.zip/file
Note: For this mod to work properly, you must install Viper4K's modder resource/global textures pack first.