Need for Speed Most Wanted Downloads
McLaren 650S Liberty Walk '15 [Addon]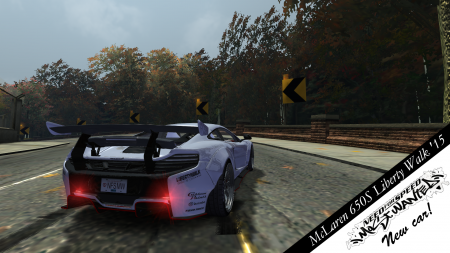 Views 3,028
Downloads 565
File updated on: March 16, 2021
This car replaces None (Addon car)
This will remind you that there is something called brakes, and if forgot about them, this beast will punish you.
This car is converted from CSR Racing 2. It can be added as a new car, for modloader version please check out LM1992's take on this ride:
Need For Speed Most Wanted: Downloads/Addons/Mods - Cars - 2015 McLaren 650S Liberty Walk | NFSAddons

From now on I'll try to find balance between vanilla progression and reality, so you can play your carrer with those cars without real advantage from the start. This is my first mod focused on that. There will be more. :>
Tuning:
- Bodykits (stock is with decals and can be painted only using special colors, kit01 is without decals and fully paintable)
- Performance
- Roof scoops
- Spoilers
- Rims
- Vinyls
- Window Tint
Credits:
- nfsu360 - NFS-CarToolkit, NFS-VltEd and NFS-TexEd
- maxhwoy - Binary
- nlgzrgn - Ed and NFSMW Unlimiter
- .CSB - GameModels Community - model extraction
- Pepega Mod, Extra Options and NFSAddons Community - help with modding
Version 1.1

uploaded March 16, 2021

MasterLife uploaded a new version. The new file is 6.25 MB.

Fixed top chassis values, now it drives like vanilla car

Initial version

uploaded March 12, 2021

MasterLife uploaded initial version. The original file is 6.25 MB.