Need for Speed Most Wanted Downloads
Aston Martin V8 Vantage N400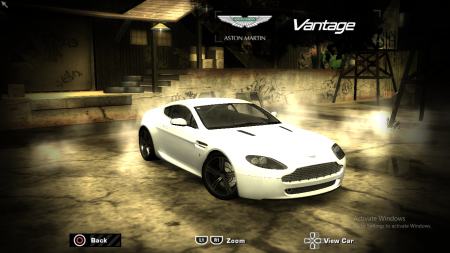 Added On November 29, 2020
Version Most Wanted
Brand Aston Martin
This car replaces None (Addon car)
Sixth upload and is a request from TEARSTREAT801
Customization:
-rims
-visuals
minor issue:
Spoiler is bugged out.


To Install You Need:
NFS Vlted
Ed The Car Dealer
NFSMW Unlimiter
How To Install
1-Install NFSMW Unlimiter:
2-Install the "Aston Martin V8 Vantage.nfsms" using NFS-VltEd:
3-Save And Exit
4-Copy The 'V8VANTAGE.ini' In Config Folder Of Ed
5-Copy The 'SECONDARY_LOGO_V8VANTAGE' In Resources-NFSMW-FrontEnd-FrontEndTextures-729181AD
6-Download And Run Ed - The Car Dealer as admin
7-From the menu bar, click open and select your game installation directory.
8-Click "Apply" button. The files should get created in the folder you used the tool.
9-Quit the tool.
Issues:
No vinyls are included
No performance upgrades
If anyone requested other mods of mine, I always agree for all of you.
If you find any bugs, report to me and I'll update it.
Pls don't complain me as if this doesn't work.
I encourage compliments and opinions.
Credits:
Eclipse72rus - The original author of this car and granted my permission
NFSMWReCompiler by MW Inside
NFSVltEd by nfsu360
Ed: The Car Dealer by nlgzrgn
fardeen833 for Conversion from modloader to addon