Need for Speed Most Wanted Downloads
2012 Aston Martin V12 Zagato (ADDON)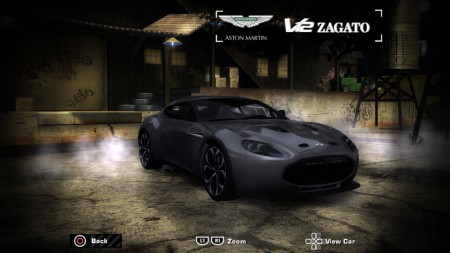 Added On November 27, 2020
Views 5,989
Downloads 928
File updated on: December 15, 2020
This car replaces None (Addon car)
This mod replaces nothing, Xname of the Addon Car is V12ZAGATO
Get the Aston Martin V12 Zagato from ModLoader if you want to replace 911 GT2 with it
Aston Martin V12 Zagato converted from Forza Horizon
Features:
- Stock Paintable Bodykit (Vanilla Color Material)
- Spoiler, license plate and their combination are accessible under Hood
- Realistic Performance data
- Special anti-theft measures: a special chrome 3D model in interior and a special dds in Textures.bin
Others:
- Added an uninstallation folder that has an nfsms file included for people to uninstall & install any addon cars they have while the endscript file was in the setup (this will also remove the files for endscript. Extract the files again manually in CARS Folder)
- Silver was set as Stock color in ED Version while Red was set as Stock color in BInary Version
- It performs well without upgrades but Nos upgrade.
Installation:
It's in the Installation txt for ED & Binary from Archive
Known bugs/issues: Aftermarket rim Issue that was the same with C-X75 (O.Z. Leonardo Aftermarket rim)
NOTE: Install cars using ED BEFORE Binary or else, Binary before ED will LOSE all Binary cars! I understand that statement from Pepega Mod Discord Server.

Credits:
- Extracted, converted & retexture by AC Lambor. Also granted me to add his car mods in NFS MW BUT to credit him & provide the link for the ModLoader car.
- Screenshots provided by Black Era
- Performance by Typhoons

- MW Recompiler by MWInside (current)
- NFS-VltEd, NFS-CarToolkit & NFS-TexEd (v1.7) by nfsu360
- NFS MW Unlimiter & Ed - The Car Dealer! + Better License Plates (8th pic) by nlgzrgn
- Ant Renamer by antp.be
- Binary v2.4.0 by MaxHwoy
Version 1.3

uploaded December 15, 2020

Raverz12345 uploaded a new version. The new file is 1.87 MB.

Some changes & things listed in Changelogs:
- The CARS Folder was moved to Mod Folder
- Added an ini file in Mod/scripts/UnlimiterData Folder to have customization visibility whatever the mods have or don't have parts & visuals, only in Unlimiter v3
- Added a command in global_uninstall endscript (from install endscript)
- Lowered Geometry file size using NFS-CarToolkit

Version 1.2

uploaded November 29, 2020

Raverz12345 uploaded a new version. The new file is 1.44 MB.

Fixed a script on its uninstallation for frontend node.

Version 1.1

uploaded November 27, 2020

Raverz12345 uploaded a new version. The new file is 1.44 MB.

I fixed the unprepared one like the Resources in ED Files Folder.

Initial version

uploaded November 27, 2020

Raverz12345, ACLambor uploaded initial version. The original file is 1.44 MB.