Need for Speed Most Wanted Downloads
Aston Martin One-77 2009 (ADDON)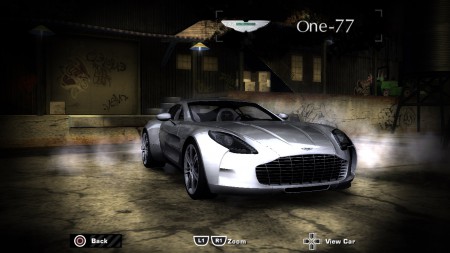 Added On September 2, 2020
Views 2,323
Downloads 458
Version Most Wanted
Brand Aston Martin
This car replaces None (Addon car)
This mod replaces nothing, folder name of the Addon car is ONE77
If you want the ModLoader version of the car, you can download it here:

https://www.nfsaddons.com/downloads/nfsmw/cars/astonmartin/4394/aston-martin-2010-aston-martin-one-77.html

If you want more mods, visit League Auto City for more car mods:

https://www.facebook.com/leagueautocity
Aston Martin One-77 converted from Forza Horizon
Features:
- Stock paintable bodykit with new material
- 2 License plates are accessible under Hood
- Realistic performance data
- Special anti-theft measures: a special chrome 3D model in interior and a special dds in Textures.bin
Others:
- Added an Uninstallation folder that has an nfsms file included for people to uninstall & install any addon cars they have
- Grey color was set as Stock Color
- New secondary logo for the Addon car made by Neon.
- Its headlights was accessible in Window Tints section
Installation:
It's in the Installation txt for ED & Binary from Archive

Known bugs/Issues: None. Tell me if you find one. Pls report if there are any errors in the endscript.
New issue (Known, 1 fixed): The spoiler still exists in Binary Version & I can't figure how to do it in the other way. However, it's NOW possible to remove spoilers on the Addon Car. The Aftermarket rims are the issue too just like the Zenvo ST1. I dunno how to fix that one...
Credits:
- Extracted, converted & retexture by AC Lambor. Also granted me to add his car mods in NFS MW BUT to credit him & provide the link for the ModLoader car.
- Screenshots provided by Black Era
- Performance by Typhoons
- An NFS HP 2010's One-77 Secondary Logo done by Neon
- MW Recompiler by MWInside
- NFS-VltEd & NFS-TexEd (v1.7) by nfsu360
- NFS MW Unlimiter & Ed - The Car Dealer! by nlgzrgn
- Ant Renamer by antp.be
- Binary v2.2.0 by MaxHwoy
Version 1.3

uploaded October 31, 2020

Raverz12345 uploaded a new version. The new file is 1.4 MB.

I forgot to change it to User Mode in the Endscript (install.end). Sorry about that, my mistake about it..

Version 1.2

uploaded October 31, 2020

Raverz12345 uploaded a new version. The new file is 1.4 MB.

Yeah, I figure it out how to remove existing spoilers. I added a node to have it none in Spoilers Section.

Version 1.1

uploaded October 30, 2020

Raverz12345 uploaded a new version. The new file is 1.4 MB.

The Addon car now supports Binary Compatibility, added an installation txt for Binary & separated inside the folder of the file (ED & Binary Files). The CARS Folder was now located in Mod Folder.

Initial version

uploaded September 2, 2020

Raverz12345, ACLambor uploaded initial version. The original file is 1.39 MB.