Need for Speed Most Wanted Downloads
1970 American Motors Rebel 'The Machine' [ADDON]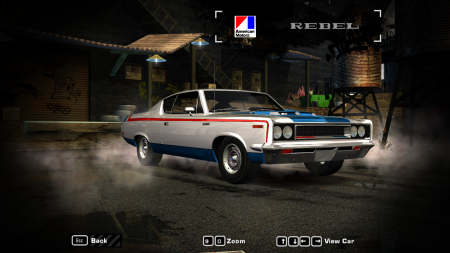 Views 1,197
Downloads 291
Version Most Wanted
Brand AMC
This car replaces Fiat Punto (PUNTO)
=====================================================================
1970 American Motors Rebel The Machine - Need for Speed Most Wanted 2005 Conversion
Converted by Rauny_noobexX
Meshes and Textures from Forza Horizon 4
Attributes by LTLGamer1
Modloader version replacing Fiat Punto
=====================================================================
Features:
Brakelight Textures
Criterion's Driver Model (Need for Speed Most Wanted 2012)
HD Logos
Performance Attributes
Body Paint
========
Credits Goes to:
ArturoPlayerOne (Modding)
Rita_Vrataski (Addon Version)
NFSU360 (Tools)
Arushan (ModLoader)
Oleg (Zmodeler)
Adobe (Photoshop)
Turn10 Studios (Meshes & Textures)
Criterion Games (Meshes & Textures)
LTLGamer1 (Performance Attributes)
and Especially to:
Blender Foundation (Blender Software)
=====================================================================
Note to all users:
This is it, folks. This Rebel mod is my last conversion, meaning that I will be retiring from modding community from now on. I would like to say thanks to everyone who helped me during my modding days and to everyone who appreciated my work devoted to my conversions. Despite my wish to stay around a little more is, somehow, something to consider, I need to get my life going for new challenges which require my utmost attention and care.
Always trust yourself and never give up of your dreams, someday they can come to true.
Goodbye!