Need for Speed Most Wanted Downloads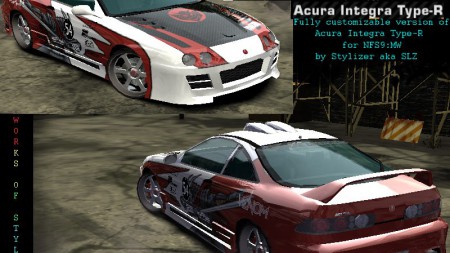 Views 80,768
Downloads 20,121
This car replaces Audi TT 3.2 quattro (TT)
Finally I acquired success in converting the fully customizable version of Acura Integra Type-R from Need For Speed : Underground to Need For Speed : Most Wanted. This I think is the first fully customizable addon car ever for NFS9:MW.
--->Need for Speed : Underground conversion by StYLiZeR.<---
--->THANKS TO<---
>Radu-Cristian for helping me a lot.
--->INSTALLATION<---
1>Make a new folder 'ADDONS' in your NFS9:MW directory.
2>In it again make 2 new folders 'CARS_REPLACE' & 'FRONTEND'.
3>Copy the folder 'TT' which is included in this package to CARS_REPLACE folder.
4>Again make a new folder 'MANUFACTURERS' in the 'FRONTEND' folder.
5>Copy 34-ACURA to the 'MANUFACTURERS' folder .
6>Copy d3d9.dll & modloader to your NFS9 directory.
7>Right-click on your NFSMW Application from where you run the game, select "Properties" and in the "target" box add '-mod'.
Click Apply & OK.
If you don't know your NFS9 directory, simply right-click on your NFSMW Application from where you run the game, select "Properties" and click on the 'Find Target' button.
--->FEATURES<---
>My own tuned custom performance.
>Textures used from NFS7's Acura Integra Type-R.
>Customised interior from Chevrolet Corvette C6R with Integra's interior textures.
>Original NFS:MW driver skin & smoke & fire effects from muffler tip.
>3d logos,rims,brakes,door handles,etc.
>Transparent light covers, & badging logos.
>Original NFS:MW License plate.
>Superb acceleration,top speed,handling,braking as well as pickup.
>Can go upto 370KPH withpout nitros on highway.
>Polycount:- 19094 Vertices, 18724 Faces.
>Some custom textures.
-->CUSTOMIZABLE FEATURES<--
6 body kits(1 stock + 3 non-widebody + 2 widebody).
Changeable spoiler.
Changeable rims.
Changeable roof scoop.
Changeable hoods with CF hoods also of the same.
Fully tunable performance.
Change colours.
Vinyls from NFS:Underground & that too on proper positions.
Changeable rim colours.
Changeable Window-tint .
Changeable Dash.
Add decals anywhere.
Add numbers.
-->NON-CUSTOMIZABLE FEATURES<--
NONE.
--->PERMISSIONS & CONVERSIONS<---
1:)You are not allowed to modify,change,tune or convert this car to other games without my proper permission.
2:)You may upload the car to any website.
3:)Feel free to make vinyls for this car without my permission.
--->KNOWN BUGS<---
>Some portion of Front Window appears when you use Hood view.
>This car does not have doorlines. NFS9 supports 3d doorlines.
No other bugs other than these I guess.
HAVE FUN..........
-SLZ alias Stylizer.