Need for Speed High Stakes Downloads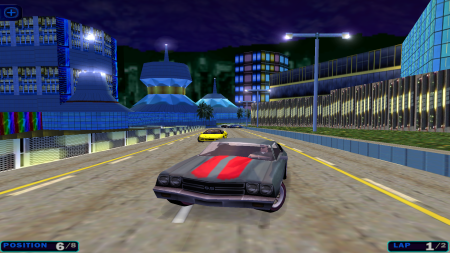 This track is an enhanced remix of my '08 Atlantic Ring track.
15 years have passed. Oh my! So I decided to update it. I dedicate this to my old friend Will who was very eager to see the track and gave me permission to use his materials. I thank you so much pal, yet I finally decided not to and started a brand new project.
For comparison, you may find the previous 2008 version here:
https://www.nfscars.net/need-for-speed-high-stakes/2/files/view/7659/.
So... how it all started ages ago. Frankly speaking, I never liked the original Atlantica, so white and scorched by
the blazing sun, and I wished to make it softer and full of neon lights. This time I decided not to change the track mesh radically and only straightened the places I never liked (i.e. sudden curves on the beach). Also some textures
were added from my old Neon City track series available here on nfsaddons. net. My inspiration were U2
Bayview tracks. This does not mean, however, that i used any NFS Undeground textures. I just tried to recreate the street racing atmosphere, is all :)
This track features:
- lots of new buildings, textures and light effects
- straightened track shape
- enhanced background skyscrapers
- tweaked weather files
- underground atmosphere.
Bugs:
- one camera angle I don't really like (near the finish) and small visibility issues, mainly when driving backwards. You are free to fix if you can. Just point me as an author. As for me, I don't have much time left for that as summer soon begins and I just wished to share my work as it was;
- someone may say textures are not his taste. Still, they are mine :)
Credits:
- I have credits by WiLL who let me use his Atlantica projects. Yet I used them mainly for inspiration.
- AJ Lethal as I studied the ini. data he used on his version of Zacabeb's Atlantica, as an example to build my own TrN file (still most of the data is different and you will see the night driving on my track leaves a totally different impression as well). Still great progress on that Zacabeb's track you made, AJ.
Installation:
copy the Atlantic folder from my zip into your Data/Tracks folder available in your game directory. And have fun!
===================================================================
Respectfully,
EvoX