Need for Speed High Stakes Downloads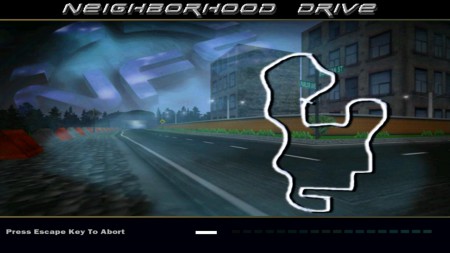 Views 4,899
Downloads 210
File updated on: September 6, 2022
A completely redesigned track for NFS High Stakes! Neighborhood Drive sounds like an easygoing track, but it is anything but that (if you are racing). With very slight elevations, many unexpected twists and turns, "distractions" and a tricky divided highway, I give this track an EXPERT rating.
This track features MANY details and cool features:
-Functioning traffic lights.
-Animated birds and objects.
-Functioning divided highway.
-type 6 concrete barriers, tables, chairs, some trees, etc.
-Gas station.
-Everything that you see on the road can be collided with. You can create some serious "Cost to State".
-Smart AI bots.
-Cool replay angles.
-Separate night version.
-Custom weather and night time.
-Rearview mirror (F7) can be safely used. No CTD!
-Many textures from various nfs games as well as photographed/scratch made by me.
-Custom loading screen and Vidwall.
And much, much more! I leave it to you to explore and discover them!
Programs used:
-T3ED Version 4.3.0 (393) (JimDiabolo)
-FSHTool 1.2 & 1.23 (Denis Auroux)
-FRD-TOOL v2.2 (GAMMARAY)
-NFS 4 Replay Camera Editor (Nappe1)
-Corel PHOTOPAINT x5 (Corel Corp.)
-MS Paint (Microsoft)
-Tgatool2 (Martin Wright)
-TGA Maker 1.0 (Josh Klint)
-NFS Wizard v0.5.0.79 (Jesper Juul-Mortenson)
-Notepad++ v8.3.3 (Don Ho)
Installation:
1. Locate your NFS4 folder and go to DATA/TRACKS/COUNTRY
2. Make a backup of the files found in the COUNTRY folder.
3. Extract ALL the contents found in this folder containing this readme file.
4. Make a backup of the T14.qfs file found in DATA\FEART\VIDWALL and install the included T14.qfs there.
5. Make a backup of the T14_00.qfs found in DATA/FEART/SLIDES and install the included T14_00.qfs there.
Installation is complete!
Alternatively, if you use the "NFS HS Mixer" application simply "import new track".

For more details, tips, issues and legal stuff, see the ReadMe file.

I hope all of you have as much fun driving on this track as I did creating it! As always, feel free to leave your feedback below!
Version 1.2

uploaded September 6, 2022

Zalcus20 uploaded a new version. The new file is 15.85 MB.

-Slightly improved AI driving lines for forward and backward directions. (Thanks to Pomfrit for advice)

-More fog effects and environmental improvements.

-Grocery store and "Konopa Bank" are no longer empty. (Thanks to AJ_Lethal for advice)

-Slight improvements for the ray tracing and texture alphas in the night version.

-Low resolution track texture files have been added for those who are unable to load the track with the regular texture files. Simply rename "tr0(lo-rez).qfs" and "trn0(lo-rez).qfs" to "tr0.qfs" and "trn0.qfs" if you get problems.

See "Version 1.2 ReadMe.txt" for more info.

Version 1.1

uploaded July 24, 2022

Zalcus20 uploaded a new version. The new file is 9.54 MB.

-Reduced all textures containing an alpha from 128x128 to 64x64 so that "non Veg patch" users can load the track and not get kicked back to the main menu or desktop. This was done for both Tr0.qfs and Trn0.qfs. Quality loss is minimal.

Special thanks to noise for running tests on this!

Initial version

uploaded July 18, 2022

Zalcus20 uploaded initial version. The original file is 10.28 MB.