Need for Speed High Stakes Downloads
Redrock Outback Version 2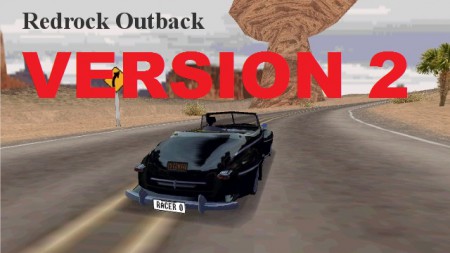 A beautiful track created and released by nfsfan83. All credits go to him as the creator of this track. He has kindly granted me permission to edit this track. Thank you!
Many improvements were made:
-99.9% of sticky walls removed.
-98% visibility issues were solved. There are still some problems seeing the road from far away on some parts of the track and some objects might still pop into view.
-Fixed many holes in the track mesh. Of course, there might be some that I missed.
-Improved AI lines. (Of course)
-Collision properties are set for signs and type 6 collision for the boxes.
-Mirrored properties set for textures with text. (Driving with mirrored option looks good.)
More improvements are discussed in the "Readme V2" text file.
-----------------------------------------------------------------------------------
NOTES:
-VEG's NFS4 modern patch is recommended.
-"Full view" and "rear view mirror off" are still recommended to prevent random crashes due to the messy medium and low LOD track Mesh.
-Many large (and some small) objects have been converted to global objects. This was done to solve the majority of visibility issues. Depending on your system, this might have an impact on performance.
--------------------------
INSTALLATION:
-Redrock Outback replaces Redrock Ridge. Make a backup of the 'Redrock' folder in your data/tracks folder of your NFSHS directory first. You can also use the NFS Mixer to import the track as a new one.
Enjoy!