Need for Speed High Stakes Downloads
List of carp.txt values which do absolutely nothing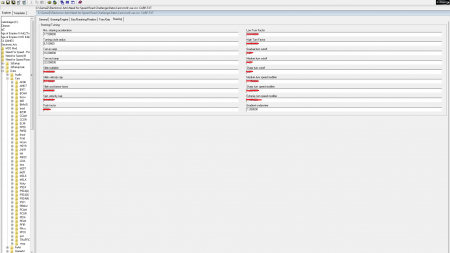 So (for me) it turns out that there are dozens of carp.txt values/parameters which don't affect the car's handling in any way when you change them.
It was always clear for me that there are some values which don't have a function in the game, but today i realized how MUCH there are.
So what i basically did (thanks to rata536) was making a usual replay, but i took 3 laps for a higher chance to let the replay desync, and the properties of the replay are:
1st lap: perfect run
2nd lap: very special crash on a tree where i loose both of the rear view mirrors
3rd lap: again very special crash where i hit a tree just by millimeters, so when desyncing i certainly won't hit it like with original carp.txt
With this kind of testing, one can be absolutely sure that the testing is legit, so that i don't tell you for example that the wheel base does absolutely nothing while in fact it does something to the handling (only an example, but the wheel base doesn't do anything indeed).
So here's the list:

GENERAL
Serial number (NOTE: This DOES affect car selection for AI opponents!)
Car classification (NOTE: This DOES affect car selection for AI opponents!)
Top speed (m/s)
Spoiler activation speed
Subdivide level
GEARING/ENGINE
Final Gear
Gear ratios
GAS/BREAKING/REALISM
Gas increasing curve
Gas decreasing curve
Suspension damage
Body Damage
Engine Damage
Engine Tuning
Brake balance
Steering speed
Gear ratio factor
Aero factor
TIRES/GRIP
Tire specs front
Tire specs rear
Tire wear
Tire factor
Wheel base
STEERING
Slide multiplier
Slide velocity cap
Slide assistance factor
Spin velocity cap
Push factor
Low turn factor
High turn factor
Gradual turn cutoff
Medium turn cutoff
Sharp turn cutoff
Medium turn speed modifier
Sharp turn speed modifier
Extreme turn speed modifier