Need for Speed High Stakes Downloads
Freak's crazy, gone nuts Pumpkin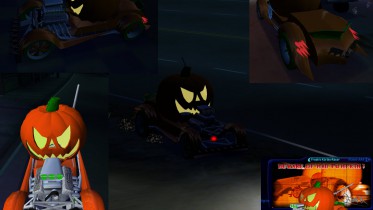 Author:
Freak-DS
Added on: October 31, 2008
Viewed: 7,361 times
Downloaded: 1,109 times
Share this car:Click to copy URL
Well, this is some in between work from my oher projects, becasue I think at last somebody in the community has to do some fun-cars ;) . This is a funcar with a pumpkin on a hot-rod chassis with some funny things, as the knife in the pumpkins back or the color-scheme and a really crazy performance taken for NFS-Tuner's BMW TR. Have fun and Happy halloween!
Damage
No
Convertible
Yes
Dashboard
None
Class
AAA
Vidwall
Yes
Serial #
6
Windows
Clear
Licence Plate
None
Top Speed
0 mph
0 kmh
Polycount
7652
Driver
None