Need for Speed High Stakes Downloads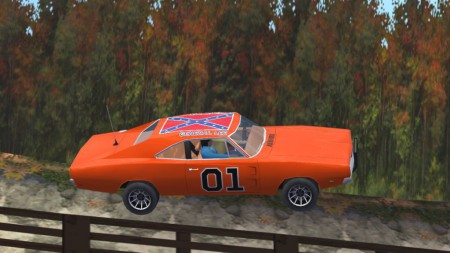 Added On November 7, 2017
Views 11,541
Downloads 980
Class
A
Serial #
10
Damage
Yes
Dashboard
New
Convertible
Yes
Vidwall
Yes
Windows
Clear
Licence Plate
Customizable
Top Speed
157 mph
252 kmh
Polycount
5079
Driver
Animated
The famous '69 Charger "General Lee" from the TV show "The Dukes of Hazzard". Based on a conversion by ReggaetonRS from NFS Carbon. Full showcase and slideshow are available in a seperate package, including slideshow and 360° interior view. Also thanks to Dr. Speed for creating a nice vidwall for the car!
Download the showcase here!
The handling was made in cooperation with Geminiyo. To experience the handling as intended, reset all tuning options to default in singleplayer. Also thanks to Cooya!, FranknFurter, AJ_Lethal for hints and help! INFO: -5079 polies -NFSCarbon conversion by ReggaetonRS -Cockpit view from MCO -Handling by Geminiyo -Damage -Driver with movements -Pop-Up lights -Engine sounds from NFSCarbon. -Color schemes from TV show + customizable colors If you modify or upload any part from this mod, always name the originators and leave a comment on my Youtube channel https://youtu.be/pfJhuSoTKu8 please (or at least on this Webpage). Thank you. Installation instructions on ZIP file.