Need for Speed High Stakes Downloads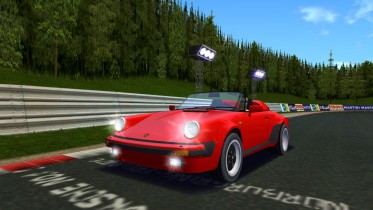 Author:
Team RSR
Added on: June 20, 2010
Viewed: 4,785 times
Downloaded: 929 times
Share this car:Click to copy URL
Finally, the long awaited Speedster version of the '89 Porsche 911 is finished and may be presented to you! Like a Porsche advertisement said, the only way to improve a 911 is to leave away the upper half, which pretty much hits the pont here. Except for the small windshield and the characteristic fiberglass cover for the emegency convertible, nothing sepperates you from the sky. You want a maximum of fresh-air-feeling combined with far more than 200 kph? Well, here you have it!
The latest '89 Porsche 911 G-model version by us features:

- 6295 Polies
- 3D Engine
- 3D Wheels
- Almost ANY detail in 3D (Whipers, headlights, doorhandles,..)
- Highly detailed Dashview
- Very detailed textures
- 100 % accurate mesh
- Heavy damaged model with parts under the body etc.
- Showcase
- Animated driver
- Customizable license plate
- 10 factory colors
- ...

Converting, modifying and/or attaching to packages is NOT allowed without written permission, under no circumstances!

Wether you enjoy the fresh autumn air on Hometown or kick it on Raceway, fun is guaranteed!
Damage
Yes
Convertible
Yes
Dashboard
New
Class
A
Vidwall
Yes
Serial #
43
Windows
Clear
Licence Plate
Customizable
Top Speed
163 mph
260 kmh
Polycount
6295
Driver
Animated