Need for Speed High Stakes Downloads
1988 Ford Mustang GT 'New York Police Department'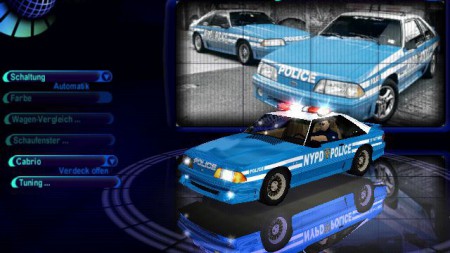 Added On January 30, 2017
Views 2,546
Downloads 595
Version High Stakes
Brand Ford
Damage
No
Convertible
Yes
Dashboard
Yes
Class
Pursuit
Vidwall
Yes
Serial #
36
Windows
Clear
Licence Plate
Non-Editable
Top Speed
132 mph
210 kmh
Polycount
3275
Driver
Animated
1988 Ford Mustang GT 'New York Police Department'

original base car by DodgeBoy '1987 Ford Mustang GT' (see 'original_readme.doc)

this is one (last so far) car of a small Mustang series once done by NJ (XJ220) and me I have updated and reworked in recent time ..

serial number: 36 as 'auxiliary Police vehicle' replacement car for Empire City ('New York') usage so please make a backup of 'PDia' car.viv first or rename that to e.g. car--.viv to avoid serial number conflicts ..

If you already downloaded the 'Texas DPS Mustang' I recommend to also backup that or to rename the concerning car.viv to car--.viv as well because of the same 'auxiliary car' serial number .. ;)

The convertible option hides or lets side windows appear

Extract 'car.viv' to a new folder 'PMNY' in your Datacars directory

Copy, move or extract the VidWall file 'PMNY.qfs' to your DataFeDataVidWall folder and ..

have fun! :D

Frank

FranknFurter @ NFSAddons.com / NFS Police H.Q.