Need for Speed High Stakes Downloads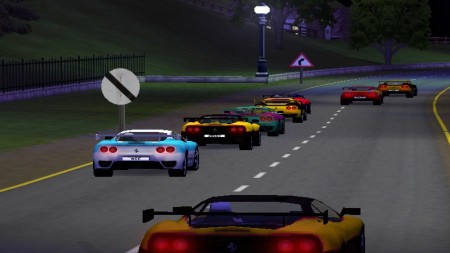 Added On September 10, 2023
Class
AA
Serial #
31
Damage
Yes
Dashboard
Yes
Convertible
No
Vidwall
Yes
Windows
Clear
Licence Plate
Customizable
Top Speed
197 mph
316 kmh
Polycount
0
Driver
Animated
Car: 360 Modena F1
By: EA/EvoX
===================================================================
Well, here is what is thought to be my 1st car, but more likely a simple mod to EA 360 Modena. Not really the real F1 Modena, but more like the way I saw it in my dreams... I took the upgrade 3, modified the colors and applied an expanded F1 GTR wing to it. Funny, yeah. You may like it or not. Well, I doh.
Features:
- Tweaked color combos (not real though) with Italian namez on 'em
- Tweaked per4mance (way fasta then the original thing, heh)
- Upgrades with cool headlite effects (Top speed on the 3rd close to 350 kph, maybe more)
- Ser. No. 31.
NOTE: This ride has the same Serial No. as the Maranello, so be sure to change the Ser. No. of any of the two. In case you leave it to No. 31, u will deal with this baby in career in a 1 vs 1 race, where this beast will be likely to kick your a$$ violently. Jeez be sure to hold your handwheel tight modofoka… And press ya pedals betta!
COPYRIGHT:
U may upload it to any other NFS related websites, but please put my F#CKIN NAME next to EA. Despite my amount of work here was highly moderate, I would appreciate that. PEACE.
Complex software and programming wizards used:
- CarCad
- FCE finish
- NfsWizard
- Adobe Photoshop