Need for Speed High Stakes Downloads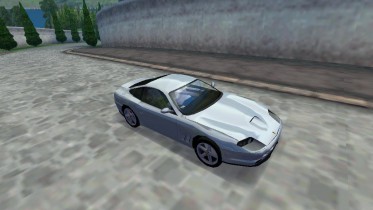 Author:
NFSF1McLaren
Added on: March 25, 2019
Viewed: 1,039 times
Downloaded: 160 times
Share this car:Click to copy URL
This is the Ferrari 550 Maranello. Converted from Forza Motorsport 4's 575M Maranello and Need for Speed: Hot Pursuit 2's 550 Barchetta.

Replacement for: FERRARI 550 MARANELLO

Features:
*6461 polies;
*Dash (default 550 Maranello dash);
*6 Colors (default 550 Maranello colors)
*Required $150,000 for career purchase;
*Multi-language support;
*PS1 release-based upgrades (see below).

Upgrade Features:
-Upgrade 1:
**6487 polies;
**Golden stock wheels;

-Upgrade 2:
**6542 polies;
**Golden stock wheels;
**Custom front and rear bumpers;

-Upgrade 3:
**6542 polies
**Golden stock wheels;
**Custom stripe vinyl;
**Custom front and rear bumpers

Installation:
-Open you Need for Speed: High Stakes directory;
-Copy the 'FM50' folder to the folder "Data/Cars" and replace the original vehicle;
--make backup of the original 'FM50' folder;
-Run the game and select the desired vehicle.

Credits:
-AJ_Lethal - help, tutorial and parts (default and race driver, brake calipers, Z3's paint and doorline textures);
-Viper Jay 5 - Ferrari 550 Barchetta conversion from NFS Hot Pursuit 2;
-Cyrax - Ferrari 575M Maranello conversion from Forza Motorsport 4;
-JYSB59 - Forza Studio 4.1

Used Tools:
-Google SketchUp 2016; ZModeler 2.2.6; ZModeler 1; GIMP 2.8; Forza Studio 4.1; NFS TexEd; FCE Centerer; FCE Colors; FCE Finish; NFS Wizard

Enjoy!

Damage
Yes
Convertible
No
Dashboard
Yes
Class
AA
Vidwall
Yes
Serial #
31
Windows
Black
Licence Plate
Customizable
Top Speed
199 mph
319 kmh
Polycount
6461
Driver
Animated