Need for Speed Hot Pursuit Downloads
Need for Speed III: Hot Pursuit Instant Tricks Tool v1.0 - 31.10.2023 -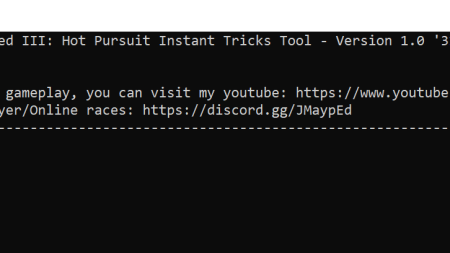 Added On November 1, 2023
This tool allows you to use features like instant steering, instant acceleration and instant braking in nfs3 game.
With this tool, IS (Instant Steering), IA (Instant Acceleration) and IB (Instant Braking) is now achievable on any input device, not limited to old digital/analog gamepads. You no longer need to activate as you did before using VJoy or similar software if you wish to utilize tricks, such as for creating good replays for speedruns. With this tool, it has become much more accessible and convenient for everyone to activate IS, IA and IB.
If you don't know what this is, you can learn by Readme zip file you downloaded, or by watching this video because you can't understand it from the images.
https://youtu.be/DPdUfHqhClM
You can learn all explanations and installation in Readme file. It's a very simple and useful tool.
If your antivirus detects it as a virus, make it ignore/whitelist this tool.
The latest Microsoft Visual C++ Redistributable x86 package is required. I already included this in the zip. If you still want to download from the website, here:
https://learn.microsoft.com/en-us/cpp/windows/latest-supported-vc-redist?view=msvc-170

Author: Jericho