Need for Speed Hot Pursuit Downloads
The Complete Car Sounds Remake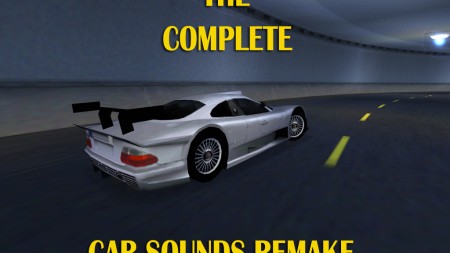 Added On February 11, 2023
Views 1,291
Downloads 109
The Complete Car Sounds Remake for Need for Speed III
To me, the stock EA car engine samples sound either too dry or annoying, and in both cases too basic (with just a few exceptions), so here's the Complete Car Sounds Remake mod, which covers all official EA cars (with downloadable cars and cars from different releases included), as well as 10 extra community cars, which I presently use myself
The engine samples come from various mods for Test Drive Unlimited. Sorry, I can't specify the author of each sample, since I hand-picked them directly from the game folder with hundreds of sound mods already installed. Then, I edited and altered most of the samples in and out to make them sound as I want. Anyway, all credits for the original engine samples go to their authors, and I may remove or replace them in case of trouble
The intent was to make cars sound more complex and in some cases more aggressive, without being annoying. Also, I tried to pick samples from the relevant car mods OR make them sound as close to their actual counterparts as possible. That was the intent, but the actual result is by no means perfect, because the game uses just 1 sample for "engine load" and 1 for "no-load" modes, so they got to sound basic anyways
The samples are pretty big (3 to 8 secs) compared to the stock ones, since that minimizes the looping issue and just makes the cars sound more rich and natural. I tested them using the IndirectSound Audio Wrapper (or Alchemy, no difference here) in EAX mode through both integrated Realtek and Sound Blaster X-Fi devices, and that way the game seems to handle the big samples no problem. I haven't tested them extensively in Stereo mode without sound wrappers, since I see no point in this, but as far as I can tell, no issues are expected
********
Extra community cars covered (by their folders)
993S - Porsche 993 Carrera S
993T - Porsche 993 Turbo (completely different sound, the most difficult one to make it close to the actual car, so sounds pretty mediocre)
CCM8 - Camaro Z28 4th gen (the Catfish)
FF50 - Ferrari F50
GT90 - Ford GT90 (I wanted its quad-turbo engine to sound unique and different, just like the car itself, so it may appear a bit weird)
JAGR - Jaguar XJ220
MCF1 - McLaren F1
MCLK - Mercedes-Benz CLK-GTR Chassis#1 D2 Privat (available together with the regular CLK-GTR in the mod package by rata_536)
NAZC - Italdesign Nazca C2
SV99 - Holden SV99 (sounds slightly different than HSV GTS for the sake of diversity)
********
BNK files explained:
There are 4 files per car
CAR.BNK - the main sound file for player's car, used both in EAX and Stereo mode
SCAR.BNK - the sound file for player's car used in Split-Screen Mode (I haven't tested them, but made them identical to the main CAR.BNK, so no problems are expected)
OCARD.BNK - the sound file for the AI car used in EAX mode (all are extensively tested with IndirectSound Audio Wrapper, see below for details. Also, I made sure you can hear the AI using the horn, in all cars)
OCAR.BNK - the sound file for the AI car used in Stereo mode (here I put the same samples as are in OCARD.BNK and CAR.BNK, but haven't tested them all since I see no point using Stereo mode. The AI cars sound pretty weird with short and dirty loops, because in Stereo mode the game uses just 0.5 sec of the sample from OCAR.BNK)
********
Bugs and things
- Some samples sound not very clean, with a bit of noise and crackles (and my audio editing skills are not enough to make them perfect)
- The AI cars sounds (OCARD.BNK) are a little tricky. The single AI opponent sounds ok, but for some of them the game limits the pitch somehow, so some cars may sound strange at high revs. Now, when you start with the full grid of AI cars, the game seems to use only 1 engine sample (from the car closest to the player in the starting grid) for all of them, and also, all AI cars are much more quiet. I can't figure out if this is a bug or the game engine's limitation, but the unmodified game with just the Modern patch behaves the same
- Three pursuit cars use the same samples as their civil counterparts
- Some cars, like Italdesigns, GT90 or Lister, I just wanted to sound unique and unusual, with no reference to the actual counterparts (especially since I couldn't find the sound, for instance, of the real Scighera to refer to)
- Some cars, like CLK-GTR or XJR-15, sound loud and aggressive by intent (may be a little too loud), because the actual vehicles are certainly not soft and quiet; anyway, that was a matter of my preference
********
Installation:
Import all four BNK files into the target CAR.VIV with NFS Wizard
********
Any feedback would be appreciated. You may report any bugs here or in PM
********
This mod was inspired by the excellent EA replacement cars made by rata_536. The game became so much better with them. Fantastic work!
Also, I'd like to thank the community for lots of great mods and inspiration
Sincerely,
Tatarus