Need for Speed Hot Pursuit Downloads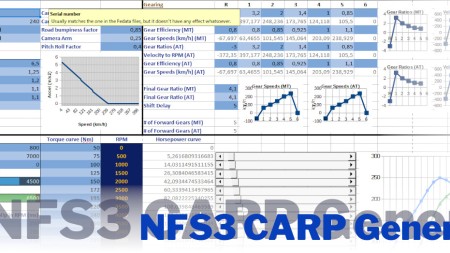 Added On November 12, 2022
NFS3 CARP Generator by AJ_Lethal
____________________________________________________
A spreadsheet tool that can help you to generate a CARP.txt file from scratch.
____________________________________________________
Requirements
------------
Either
-Libreoffice 7.x or later
-MS Excel 2019 or later
___________________________________________________
Usage:
-----------
-Open either the MS Excel version (.xlsx) or the OpenDocument version (.ods)
-Fill in the required data in the Main sheet
-If you need to find info on your car's performance there are a couple of places that could be useful for data, such as:
-Car magazines
-The manufacturer websites
-automobile-catalog.com
-Carfolio.com
-if everything else fails, pray to Saint Google
-You can also use CarTest to obtain stuff such as acceleration times, torque curve, etc. from car data as well. You can get here at:
-https://www.beretta.net/goodie_bin/cartest.htm
or
-https://archive.org/details/cartest_202106
-Since it's a DOS program you might need DOSBox to run it
-You can also import (most) of the data from an existing CARP.txt file. Just open the existing CARP with a text editor, copy the contents and paste it column A of the CARP Import sheet. Choose "comma" as separator as prompted.
-The imported CARP data will appear in the Imported CARP Values sheet, you have to copy and paste the data into the Main sheet from there
-Some steering values, opponent data and g-transfer factor won't be imported.
-There's also a FEDATA compare data calculator, it's not 100% accurate but it's close enough.
-When you're done go to the Generated CARP sheet, select the A column and copy it. Then paste it in Notepad and save it as CARP.txt; from there you can import in your car.viv file with NFS Wizard or any other VIV utility.
Credits
----------
-Justin "IH8COPS" Martin, Rudy & Sara (RDP), Mitch Larsen, rata536 and pete9516 for their research on CARP.txt data that was used as the basis for the calculations and tool tips present in the file.
-pete9516 for his opponent acceleration table tutorial (https://www.nfsaddons.com/forums//index.php?topic=2370.0) which I used as the base for the opponent acceleration calculation.
Distibution
---------
If you're gonna distibute this file, make sure to credit me as the author.
Contact:
--------
Any questions or suggestions can be sent to ajaguilarnfsc(at)hotmail(dot)com; you can also look for "Need for Speed .R Garage" on Facebook and Twitter.