Need for Speed Hot Pursuit Downloads
Mercury Cougar Eliminator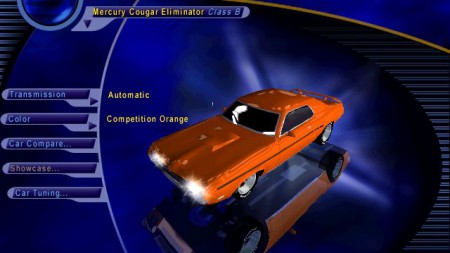 Title : 1969 Mercury Cougar Eliminator
Filenames : car.viv, readme.doc
Version : 0.9 Beta
Author : Kris Winters aka Cougar
E-mail : kriswinters@compuserve.com
Homepage : none, can be reached through Bandit at http://216.169.113.73/
Editors used: AutoCAD,Chris Bernard's Carcad for 3ds conversion to .fce and texture editing, EA's Cartool for smoothing editing and normal setting.
-Installation-
Unzip to C:\Program Files\Electronic Arts\Need For Speed III\Gamedata\Carmodel\coug.
(provided you didn't change your install directory.)
In the car menu, choose Mercury Cougar Eliminator
This car is high detail only, as I had no desire to just paste a picture on a block.
It requires a high performance system, even my 350 MHZ system with 64 MB dropped some frames running this car. I make no apologies. Enjoy it if it runs on your system.
This is a beta release, there will be an update, addressing several things.
I would appreciate any constructive comments, compliments, or criticisms.
The performance parameters set are at what I call "semi-realistic", since I enjoy realistic performance, but since few NFS cars come with anything near real performance, it is "enhanced" somewhat. My real Cougar will never do 175 MPH.
-Notes-
Thanks to these people, without whom this car would not have been possible:
Scott Keatts, who helped me shoot the car and whose idea that was in the first place, then for his help in converting that data to a useful format.
Mike Keatts for letting us use his car for a model, since mine is half apart, still.
Patwo Design for the great design guide.
Chris Bernard for his excellent editor, CarCAD.
TNT for the great engine sound from his Boss 351.
Vertigo for the CARP.TXT file from his Mach 1, of which this is a modified version, for his early beta testing and his useful insight.
Digital Thunder for the dash, which I used as a base.
Bandit, whose late beta testing and insight were invaluable, plus the excellent web page to put it on.
You MAY make any changes you want to this car, provided:
1. You give credit to the original author (me).
2. Let me know before you release it to the public.