Need for Speed Hot Pursuit Downloads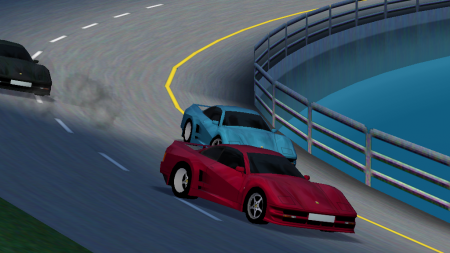 Added On October 22, 2022
Views 2,227
Downloads 260
Higher quality model as EA replacement plus a few minor fixes.
Stats:
512x texture for high quality texture mod on VEG patch
256x texture can be used instead by renaming CARGAR.TGA
2780 total combined polygons for compatibility with unpatched game:
1504 polygons for high quality model (LOD0)
830 polygons for medium quality model (LOD1)
426 polygons for low quality model (LOD2)
12 polygons for tiny model (collision) plus 8 for faux retractable headlamps
Sound improved by halving playrate
Dashboard view completely reworked to bring it to proper spec

Completed colour sheet for AI
Notes:
Very obscure car, not a lot of info. I had a GT version model from GT6 as reference, but that wouldn't make the trick for the whole front section so that's up to proportion comparing and reference takings. Excuse any discrepancies. It's surely more accuarate than the Spectre.
Fun note on this, there are only three road units of this car, they are all different from each other. Silver has no outlet behind the fron wheel arch, black has a completely different side skirt. Badging is different among all three as well. I'm sticking to the blue unit which was the one worked by the game devs.

Colours. The first three are the colours of the three road units, I've got no names for these colours.
Green and yellow are set to mimic the famous GT units, the other two are Jaguar colours, Monza Red and Spindrift White.
Dashboard was centred, and an entire new chunk of bitmap has been drawn from scratch, with the only reference being the small cockpit view window from showcase. Luckily, the interior is very simple. Also, was given RHD flag, not present in the original FEDATA.
Speaking of FEDATA, the car is now fully AI drivable because what's the point if you can't race against it?