Need for Speed Hot Pursuit Downloads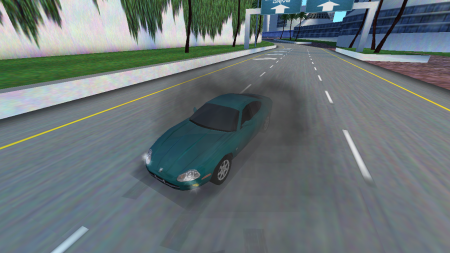 File updated on: July 31, 2022
Higher quality models as EA replacement plus a few minor fixes.
File includes both XK8 and XKR since they are the same car.
Stats:
512x texture for high quality texture mod on VEG patch
256x texture can be used instead by renaming CARGAR.TGA
2724-2772 total combined polygons for compatibility with unpatched game:
1376-1392 polygons for high quality model (LOD0)
828-854 polygons for medium quality model (LOD1)
508-526 polygons for low quality model (LOD2)
12 polygons for tiny model (collision)
Corrected XKR dashboard camera shift to match Left Hand Drive configuration

Corrected XK8 FeData (the car is not 1.8 metres tall anymore)
Slighty revised gear efficiency to remove shift skipping
Corrected colours*, added new colours to fill the grid
XK8 was turned into Coupe version to match all pictures of the car ingame. Cabrio version is offered as alternate for those who want to keep the car featured originally.
XKR Coupe version is offered as alternate because y'all just want it all.
Use switch.bat to easily change to alternates and back. There's no compatibility issues between coupes and cabrios so switch them as many times as you want.
*XKR now shares the colour list to the XK8, mainly because I couldn't be bothered to keep two different lists considering I'd had to add all of the extra colours to it anyways. Fight me.
Thanks to NFSF1McLater who reminded me about the cabrio's third stop missing.

Version 1.3

uploaded July 31, 2022

rata_536 uploaded a new version. The new file is 6.01 MB.

Restored XKR's carp.txt to an actual XKR instead of I don't know... A CORVETTE!?

Version 1.2

uploaded May 27, 2022

rata_536 uploaded a new version. The new file is 6.01 MB.

Restored the alternate versions to an usable state, NFSFCEFinish damage was undone
Restored foglights to white from the much nicer looking yellow
Fixed an inconsistency on XK8
Ate a bowl of cereal, it was tasty and crunchy

Version 1.1

uploaded May 26, 2022

rata_536 uploaded a new version. The new file is 5.98 MB.

Fixed two small UV bugs on taillights (thanks NFSF1McLaren) and headlights
Restored XKR coupe rims to standard XKR ones to avoid getting hang on the town's statue

Initial version

uploaded May 25, 2022

rata_536 uploaded initial version. The original file is 6.05 MB.