Need for Speed Hot Pursuit Downloads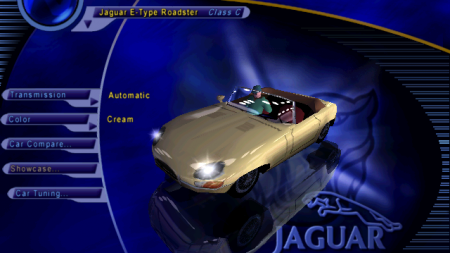 JAGUAR E-TYPE ROADSTER
Add-on car for NFS III
Version :1.0
Realeasedate :around May 01.1999
Author: :Manuel Fernández
E-mail: :blevr6h@telcel.net.ve
Installation:
You must create an "Etro" subdirectory in your
\Gamedata\Carmodel subdirectory, and unzip the
car.viv file in there.
Unzip the 09_00.qfs loading slide file into the
\FeData\art\slides folder.
The serial number for this car is 09. If you
have another car with the same number NFS3 won't
lauch. You can change it with vivwizard. Remember
to rename the first two numbers in the 09_00.qfs
slide file to match the new number. The slide
doesn't work further from 50.
Explanation:
Originally this was an Aston Martin, then it was
the V 1.0 of my Jaguar E-type Coupe; then I sunk
the roof to make the cockpit floor, added seats,
a guy and folded tonneau cover. Now it's the
legendary Jaguar XKE (E-type) Mark I convertible
from the 1960's.
I Used the original color names, that's why they sound
so silly.
The performance data is taken from the XK8 Jag and
tweaked to resemble that of a 1967 E-cat. This is a
class C car but it's very competitive in B too.
Most annoying bugs:
-The body is still too rough.
-The windshield is too clear. (I prefer this over
a semi-trasparent that won't show the guy and seats,
anyone know why this happens?)
-Performance is a bit optimistic.
-I don't own one.
Future improvements.
-More accurate performance, whenever I find the correct
torque curve, gear ratios and such.
-Arms and legs for the guy, a shifter and steering
wheel; but don't hold your breath :)
Aknowledgements:
- Thanks to the VivWizard creator for making it much,
much easier.
- Thanks to the NFS gaming community for the cool
editors, tips and enthusiasm.
- Thanks to EA for the game and the cartool program.
Legal paraphernalia:
- All Need For Speed Titles are Copyright of
Electronic Arts
- The fantastic VivWizard V0.7 is Copyright 1998/99
of Jesper Juul-Mortensen
- Jaguar and the E-type/XKE name are trademark of Jaguar.
You can tweak/modify/sack/pillage/whatever the
files included in this zip archive. Just remember
to give me credit and make me famous or your Karma
account will be charged! ;)